Long before Christchurch looked seriously at using more physically separated cycleways, a simple improvement was to provide some low-cost separators on existing painted cycle lanes. Research was even undertaken to assess its effects and this post, originally from Apr 2013, summarised the positive results found. It's not surprising then that a number of existing  cycle lanes have now had similar improvements made to increase their level of service (and there are probably more sites that we could still do likewise with):
To date, the most commented blog post on Cycling in Christchurch by far has been our one on the trials of cycle lane separators in the city. The general feedback has been one of strong support for the concept and a wish to see more of them around town.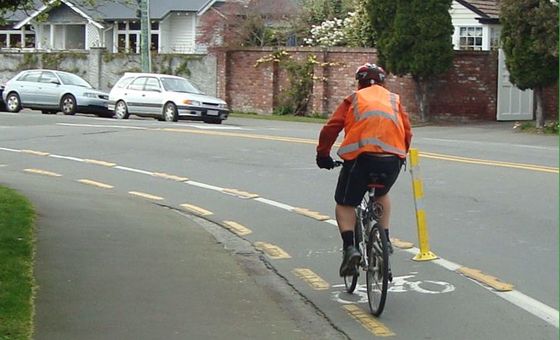 Now some results of the trials from last year can be shown here. Recently the findings were presented at the IPENZ Transportation Conference in Dunedin, which is where transport professionals (engineers, planners, etc) from around the country gather to learn about new developments for traffic/transport in NZ.
The study was a joint effort by local consultants ViaStrada, researchers at the University of Canterbury, and the Chch City Council, on behalf of the actual client Ozzie transport agency VicRoads. Video monitoring of the two sites studied was analysed to determine the effects of installing the low "Riley kerbs" and vertical "flexiposts". Road users (esp. cyclists) were also surveyed to gauge their thoughts about the two trial sites.
At both sites, the results showed impressive reductions in motor vehicle encroachments following the installation of the separators. The vertical posts in particular had a big effect on preventing poor behaviour and also helped to highlight the low Riley kerbs to approaching road users.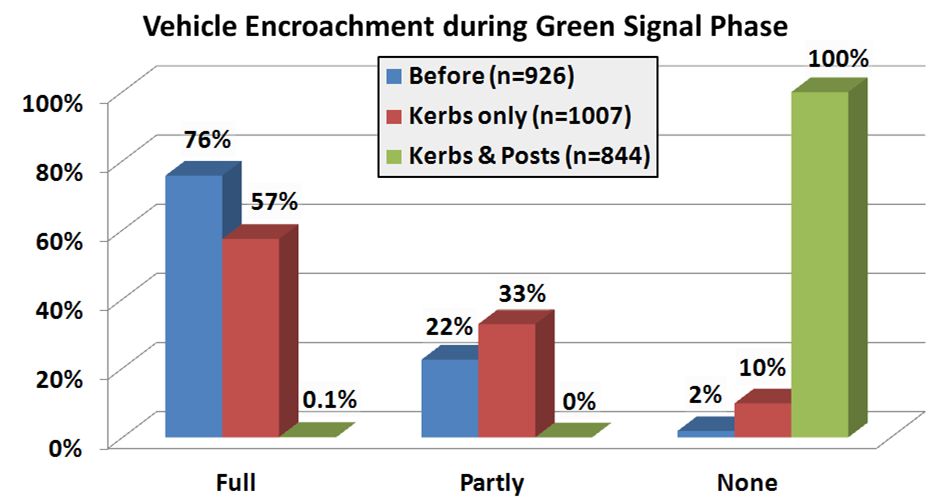 The road user surveys were also very positive, with respondents liking the existing setups and also wishing to see them used elsewhere (esp. on busier roads). Interestingly too, women were more likely to be very positive about them, illustrating how separated cycleways of various kinds can be quite crucial to achieving a better gender balance on bikes. Probably the main negative concern was that the Kotare St site felt a bit narrow with the vertical posts installed (the Strickland St cycle lane was widened first and there was no similar concerns).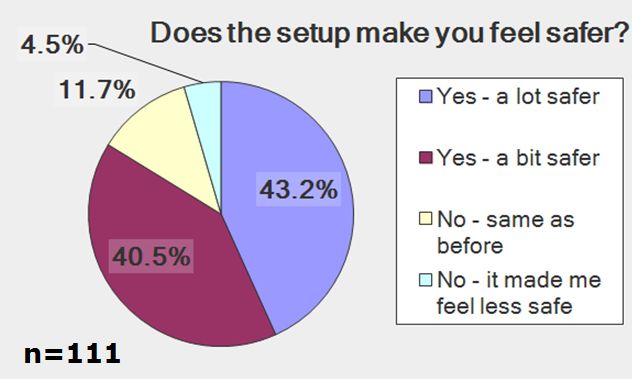 Given the success of the trials, the City Council is now looking at where else in the city to roll these out. Already there is a proposal to replicate the Strickland St separators on the other side of the Brougham St intersection, coming from the north (plus some better hook turn boxes there). The separators were also identified as one of the potential design tools in the new Council Cycleway Design Guide.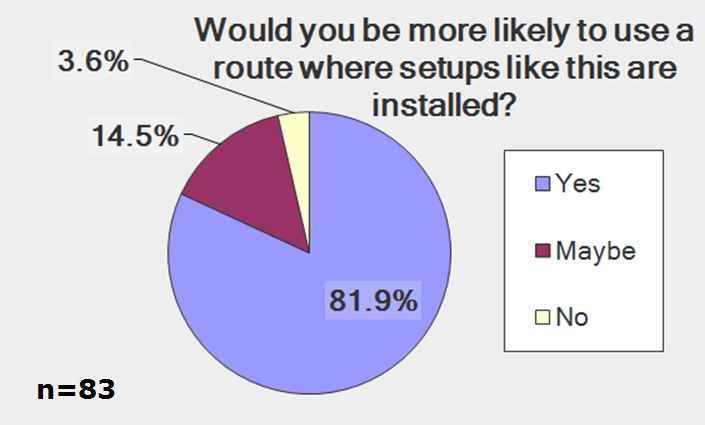 Copies of the research paper and presentation can be found on ViaStrada's website.
Where would you like to see more of these separators installed?