Cycling in Chch reader Helen Leigh sent me a slightly harrowing story:
"I am an avid cyclist and have cycled for well over 10 years and have traversed much of the city. It was the first week in January this year and I was about 7km into a 16km cycle ride, when a lady suddenly opened her car door & sent me literally flying; she was in one of those huge SUV type cars with tinted windows so there was absolutely no way I could have seen her to stop or swerve & I am ALWAYS watching for that too. I had a head wind so I wasn't going at full speed thankfully, but the force of it all still flattened me onto the busy road & I knocked my head back hard against the road (ironically it wasn't my helmet that saved my head it was the round plastic adjuster on the back, otherwise I am sure it would not have been pretty).
I have spent the last week and a half, unable to properly bend my skinned knee without shooting pain, as well as a sore neck and shoulder, which I couldn't raise my arm because of the pain & I think it was where perhaps her wing mirror clotheslined me, and the biggest blackest bruises that are still visible now. The lady was of course apologetic, but this was ENTIRELY unnecessary, if she had taken one second to check her wing mirror, I would not have suffered two weeks of pain! And there is no compensation for cyclists in this instance is there? She mentioned I had an old bike which I thought later on was an odd thing to say, unless she was making a point. The location was on Ferry Road in Woolston up where 'Around again Cycles' is, and all those shops with lots of on-street parking!"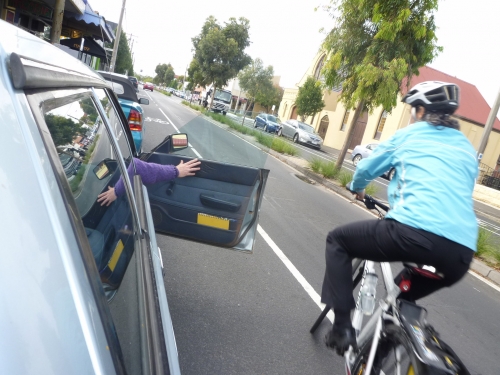 Sorry to hear about that Helen; I hope you are slowly on the mend. 'Dooring' is still one of those ongoing problems for on-road cycling. This earlier article on dooring I wrote might be of help to some of you, providing some advice on the matter.
While the onus is legally on motor vehicle occupants to check the way is clear before opening their doors (and the "Dutch Reach" is a great thing to teach drivers), a bit of "defensive riding" on the part of those on bikes can also save a lot of grief. I don't know how many times I have followed another rider 'hugging' some parked cars and in my head I'm thinking "move further away…" and hoping that I don't see an unfortunate incident. Position yourself so that you couldn't reach out and touch the parked vehicles – don't rely solely on any road markings to guide you. Contrary to popular belief, it's those stationary cars on your left that are a greater hazard than the moving ones on your right…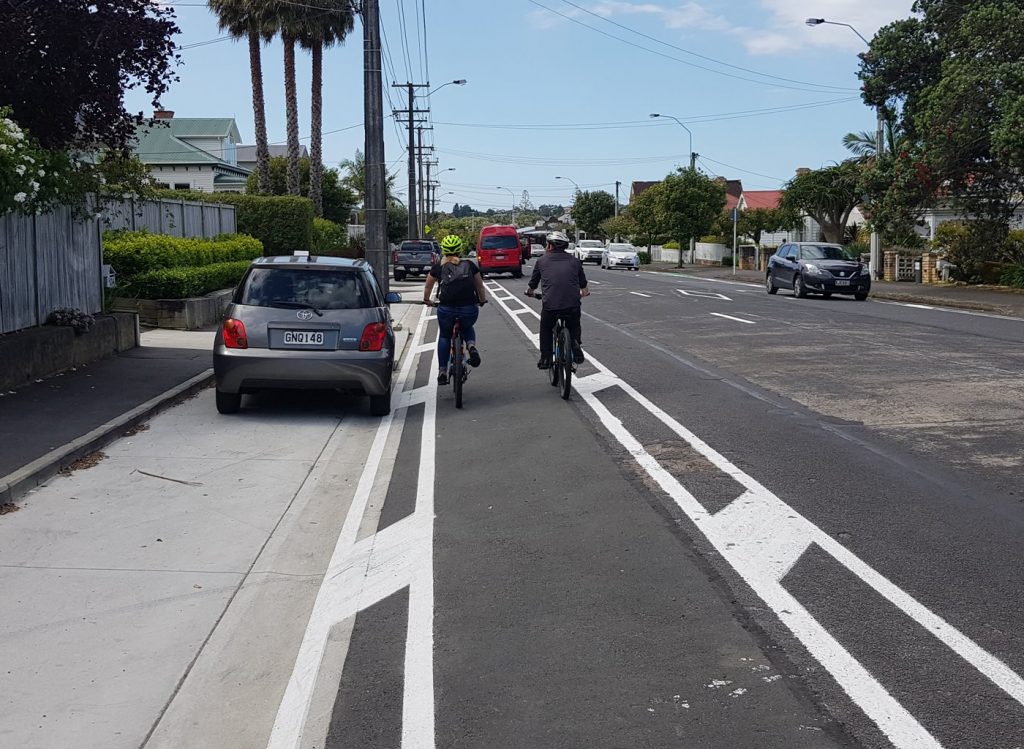 Fortunately we're getting better at rolling out more separated cycleways where the issue becomes moot; even many new on-road cycle lanes are being provided with painted buffer strips to provide a clear "dooring zone". But invariably we will probably all end up on a normal untreated street at some point. If you're biking, give yourself a wider berth passing cars; if you're driving, take a second look before opening that door…
Have you ever been 'doored' before?