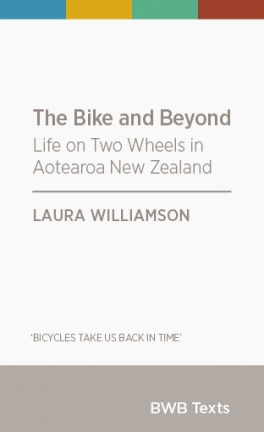 The Bike and Beyond: Life on Two Wheels in Aotearoa New Zealand
by Laura Williamson (104pp., Bridget Williams Books, Wellington, RRP $14.99 e-book $4.99)
I recently waded my way through David Byrne's intriguing but dense travelogue Bicycle Diaries – it took me about six months to get through it; it just felt like hard work to pick it up again and read a few more pages (BTW, it's not much about bicycles…). By contrast, Wanaka-based writer Laura Williamson's slim paperback was only one-third the size but also felt far more digestible – I polished it off in about three easy sessions. Williamson takes a tour around some of the places and themes in current New Zealand cycling and delivers them in short manageable chunks of about ten pages each. This allows you to dip in as much or as little as you want at a time.
The Bike and Beyond examines cycling life in Oamaru (with the obligatory historical back-story), Wellington and Christchurch; the latter provides a pretty accurate summary of how cycling has progressed before and after our re-defining earthquakes. Interestingly, for all the noise coming out of there these days, Auckland only merits a paragraph in the book, perhaps reflecting that it still has some way to go to catch up with others in the "cycling city" stakes. Then again, this slim volume never claims to be a "NZ cycling road trip", with nary a mention either of (say) the cycling demonstration towns of New Plymouth and Hastings and only brief mention of Nelson's mountain-biking pedigree.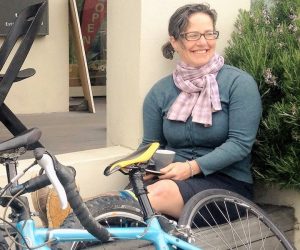 The book explores the sporty side of cycling (from the NZ heroes of the Tour de France to the pioneering efforts of our mountain-bike trail blazers) as well as the everyday utility side (considering the role of clothing for cycling, especially women, and the way that "cycle culture" transcends more than just biking). Williamson also recounts personal anecdotes, such as cycling adventures in France or riding to school growing up in Vancouver. Indeed, it was while she was unable to ride at all, owing to a busted knee, that most of this book was written. Even with the diversity of coverage, it would have been good to have also heard more about other topics of the moment, such as encouraging kids to cycle, the culture of social bike rides, or even the nagging question of traffic safety.
Only a few little things jarred for me. Early on we are told that "New Zealand adults who ride overwhelmingly do so for sports or leisure" – actually no, that myth has long been busted by the Household Travel Survey data, which shows that only about a third of all cycle trips are for recreation; we seem to use that excuse to explain why we don't take cycling as seriously as other transport modes. Then in the very interesting chapter on the evolution of mountain-biking comes mention of how John Key's NZ Cycle Trail project raised the bar – while accepting that there are some quite technical tracks in the NZCT network, that development is really about cycle touring (which otherwise doesn't really get a mention in this book). As a long-time Christchurch resident with only a brief few years in Wellington, I also had to grit my teeth on reading how Wellington was the first place in NZ to be developing "bike culture" – another visit back to Christchurch might be in order for Ms Williamson…
But these are minor quibbles. Overall I enjoyed reading this eclectic collection of slices of cycling life in NZ (and beyond). Indeed, my greatest disappointment was that it was all over too soon; as we are starting to see, there are a number of great cycling stories starting to pop out of the woodwork around Aotearoa, with some interesting people, places and initiatives. Some of the omissions mentioned above might be worthy starters for consideration. Perhaps a Volume 2 needs to be in the offing?