One of the rebuild projects slowly taking shape in the central city is the Avon River Precinct. Already we're seeing some really nice urban spaces around the Worcester-Cashel section of Oxford Tce. What's not so clear yet is just how it's supposed to work as a cycling corridor; there has been very little detail of the proposed finished product. So we wait to see what little snippets emerge and how they might connect up.
In December, this new section appeared alongside Cambridge Tce between Manchester and Madras Sts (opposite the Margaret Mahy Playground):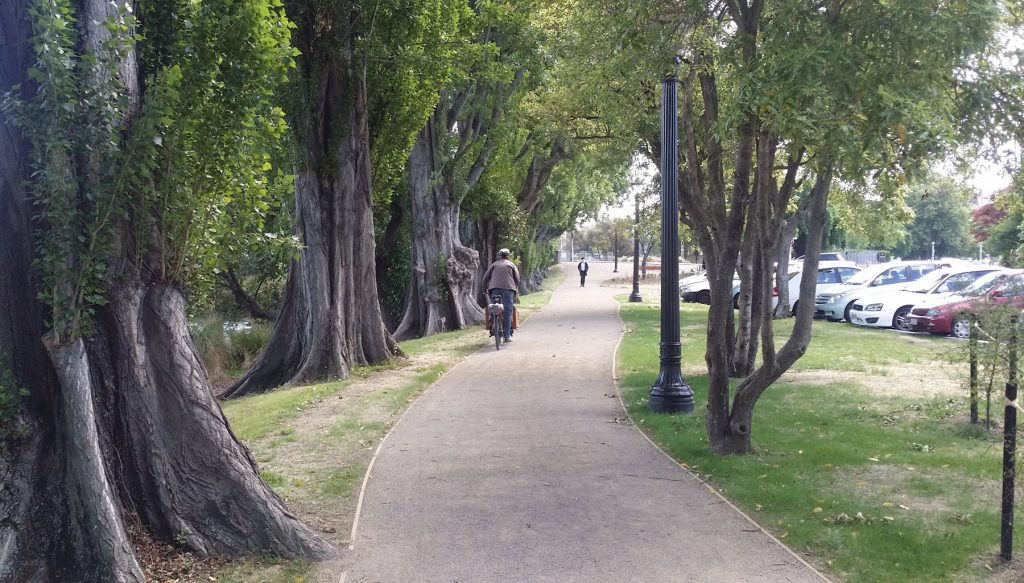 While it's currently quite a pleasant cruise alongside the river (and a handy shortcut into town from my work), I'm intrigued by the choice of an unsealed surface. Come the depths of winter (or just a decent rainstorm), I'm not convinced yet how much of an "all-weather" surface it will be for cycling commuters. Mind you, the adjacent cul-de-sac section of Cambridge Tce is hardly busy and could still easily serve as a cycling route, if it connected easily to the Kilmore/Madras corner. Perhaps that's the ultimate plan? Hard to argue with a nice riverside path option though…
Actually, this isn't the only bit of new Avon River infrastructure; immediately west of this, a section of Cambridge Tce has been closed off to motor traffic and a new concrete path created. In time it will lead to a new pedestrian/cycle bridge connecting over to Oxford Tce and Victoria Square; currently there is a design competition underway to seek artistic concepts for the bridge.
What do you think of the new Avon River pathways?