Jo Clendon from Bikes Welcome has an important message for you:
Bike parking is a small but significant enabler of everyday cycling.  Intrepid cyclists make do with improvised bike parking, but most prefer safe, secure and quality bike parking.  It says "[big smile] hey, you and your bike are welcome here".  So we like bike parking right?  But there are bigger fish to fry… safe separated cycle lanes for a start…
But why not 'do' bike parking too?  Marketers like McDonalds seek to get their brand everywhere: saturation marketing.  Isn't a bike, either used or parked, great marketing for everyday cycling?

When I see a bike, (or even a bike rack): outside a shop, cafe, library or school; it sends me the message: "hey, I could cycle here!"
Bike parking is subliminal marketing for everyday cycling.
It is normalising.
It is simple.
But: good bike parking can be hard to find.  And it often gets overlooked during development…
So back to doing something about it…  advocating for bike parking? Perhaps you'd like to, but don't know where to start, or you're busy, busy, busy and you can't spare much time…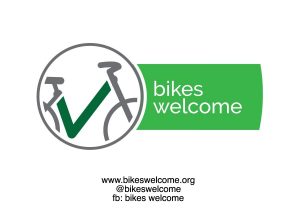 That's where BikesWelcome.org can help.  Although we are just starting out, our aim is to make it easy for you to advocate quickly and easily for bike parking, and easy for businesses (and councils) to see the benefits to them of providing it.  We also aim to connect people and organisations that want bike parking with the suppliers and councils / local bodies who can help.  We are a registered charitable trust.  So all about love, not money (although we really need some $$ to get moving!).
In the short term we'll be creating tools to enable you to invite businesses to become 'BikesWelcome' businesses; and help businesses get the information and support they need.
We'll start with 2 min advocacy… this is how it will work:
(1) You're a bike user and you have a favourite café that doesn't have good bike parking, so you have a chat and hand them a postcard, which explains the business benefits of cycling customers and providing bike parking; with links to further information, and inviting them to join the 'Bikes Welcome' movement.
(2) You're a business and you've learned the value of cycling customers.  You've used the info provided by BikesWelcome to arrange bike parking for your customers and now you proudly display the 'Bikes Welcome' logo.
(3) You are cycling to a new spot and you want to find a cycle friendly café to meet up at; you hop onto the BikesWelcome website and do a search.
We are also looking to pilot some BikesWelcome Business Districts: help wanted!
And that is just the beginning: then BikesWelcome will target policy, design and end of trip facilities; on schools, employers, designers, project managers… There are ten objectives including: "Making bike parking a priority and not an afterthought.  A given not a 'nice to have'."
Like any start-up, we are tiny and enthusiastic.  We need your ideas and, if you are keen, your involvement.  To find out more go to www.bikeswelcome.org, like us on Facebook or follow @bikeswelcome on Twitter.
What do you think makes good bike parking?
Do you have a business you can nominate as being bike friendly (to become one of our first BikesWelcome businesses)?
What are the key bike parking challenges that Christchurch faces?