A post currently doing the rounds on Facebook is once again raising the possibility of getting bikes through the Lyttelton Road Tunnel under their own steam. At present, the 52-year-old tunnel only allows bikes that are attached to the racks of the buses that go through. On the very odd occasion, people walking and cycling have been allowed through, most recently to celebrate the 50th anniversary of the tunnel in 2014 – and what a demand there was for that…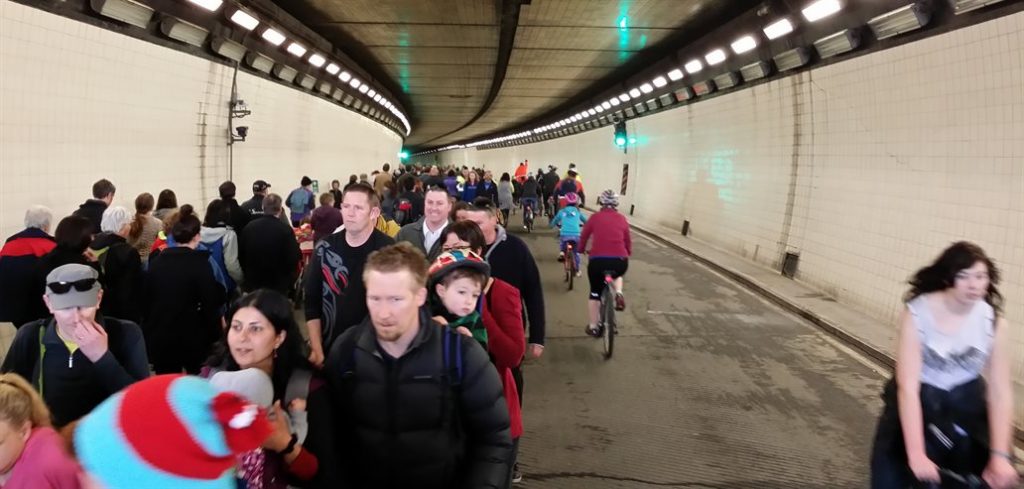 The latest graphic proposes that the ventilation shaft of the tunnel (above the roadway) be re-purposed to also allow people to walk and ride through. This large space (~12 foot high in the middle) is split in two longitudinally; one side pumps fresh air into the tunnel and one side extracts vehicle emissions. The idea of course is to allow people to access the former section where the fresh air is, by creating path links up to each end.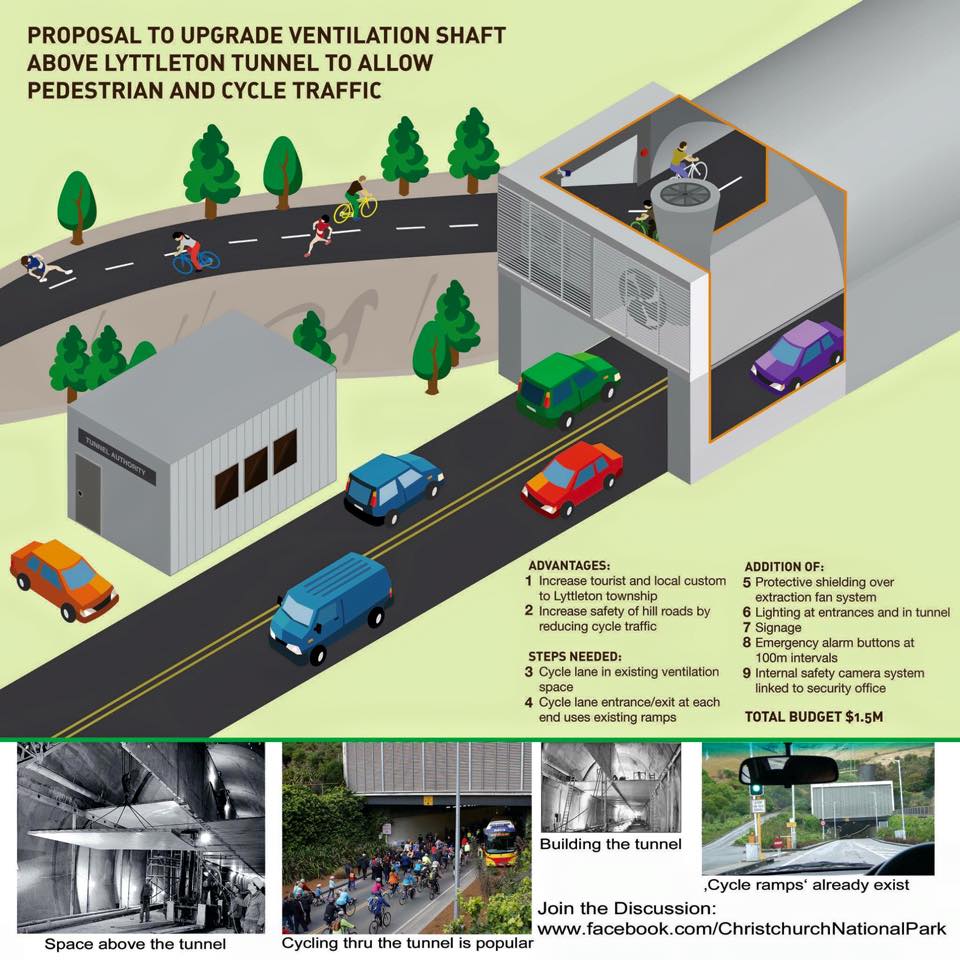 I'm not sure who came up with the $1.5 million pricetag but, in the current scheme of things with hundreds of millions being spent on cycleways in Christchurch and around the country, it's not a particularly outrageous cost (particularly in the context of >$400 million being spent on two motorways near Christchurch this week…).
This is not the first time that this proposal has been considered; in fact 15 years ago, Spokes Canterbury were engaged in discussions with (then) highway operator Transit NZ about options for cycle access. So is it feasible? There are a few things to consider:
Halfway along the ventilation shafts are bulkhead doors that allow the fans to work most effectively. So any proposal would have to come up with some way of allowing people through these doors, presumably while still maintaining an effective ventilation system.
I could imagine that the ventilation system would be pumping air fairly strongly into the tunnel. Depending on which way you were travelling, that could mean a strong tailwind or headwind. Perhaps not so much of an issue for the Lyttelton half of the tunnel, with the 3% gradient of the tunnel counteracting the opposing air pressure. But it could be a bit trickier in the Heathcote half if you have an uphill gradient and a headwind…
In these days of heightened health & safety awareness, an enclosed space like a ventilation shaft introduces new risks that the tunnel owners (NZ Transport Agency) would have to be happy to deal with. I see that the above proposal is suggesting regular alarm buttons and security cameras, but even that might not be enough to please the powers-that-be.
Interestingly, when Spokes looked at it, they acknowledged some of the inherent difficulties with a ventilation shaft route, and suggested using a shuttle vehicle instead – the tunnel operators have to maintain service vehicles for things like escorting large vehicles through the tunnel, so it wouldn't seem to be a big stretch to fit one with seats and bike racks for an on-demand service. Mind you, this was 15 years ago, when the prospect of the state highway agency doing much for cycling (let alone spending $1.5m on a cycle project) was unheard of – times certainly have changed…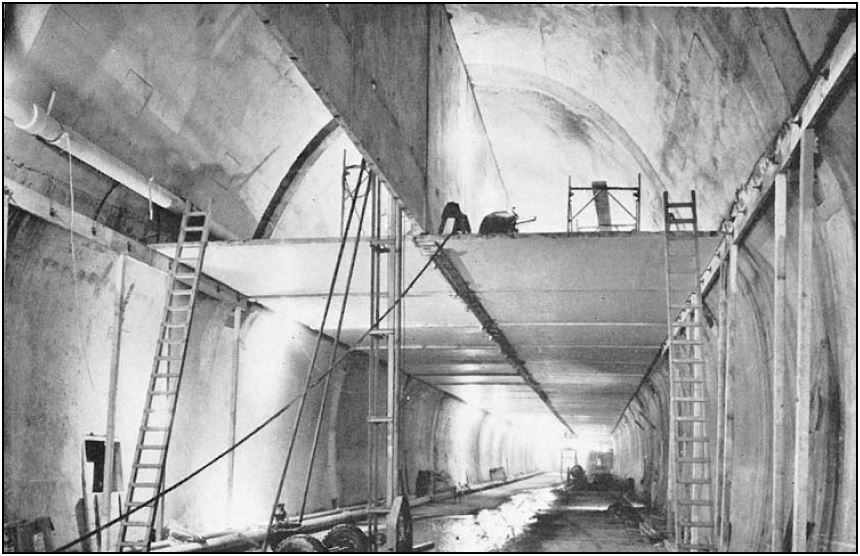 It's an interesting discussion; I'm not sure that the fundamental technical issues can be addressed, but that's something that others with more expertise than me in this area would need to consider. I guess an interesting parallel is with Auckland's Harbour Bridge walk/cycle crossing (SkyPath), where various technical and financial objections to it by NZTA have been progressively dealt with by the very persistent campaign group – and it looks like it is almost over the line now. Will Lyttelton Tunnel be Christchurch's SkyPath?
What do you think about trying to get bikes through Lyttelton Tunnel?