Guest blogger Robert has been visiting our neighbours across the ditch:
It is two years since the Velo-City Global 2014 International Cycling Conference in Adelaide was held. Along with the other inspiring posts from Adelaide written by Lennyboy at the time, the impression was clear that there was certainly a lot to be happy about in Adelaide when it came to cycling. Some of the ideas would certainly be useful for Christchurch as it embarks on its major cycleway program throughout the city.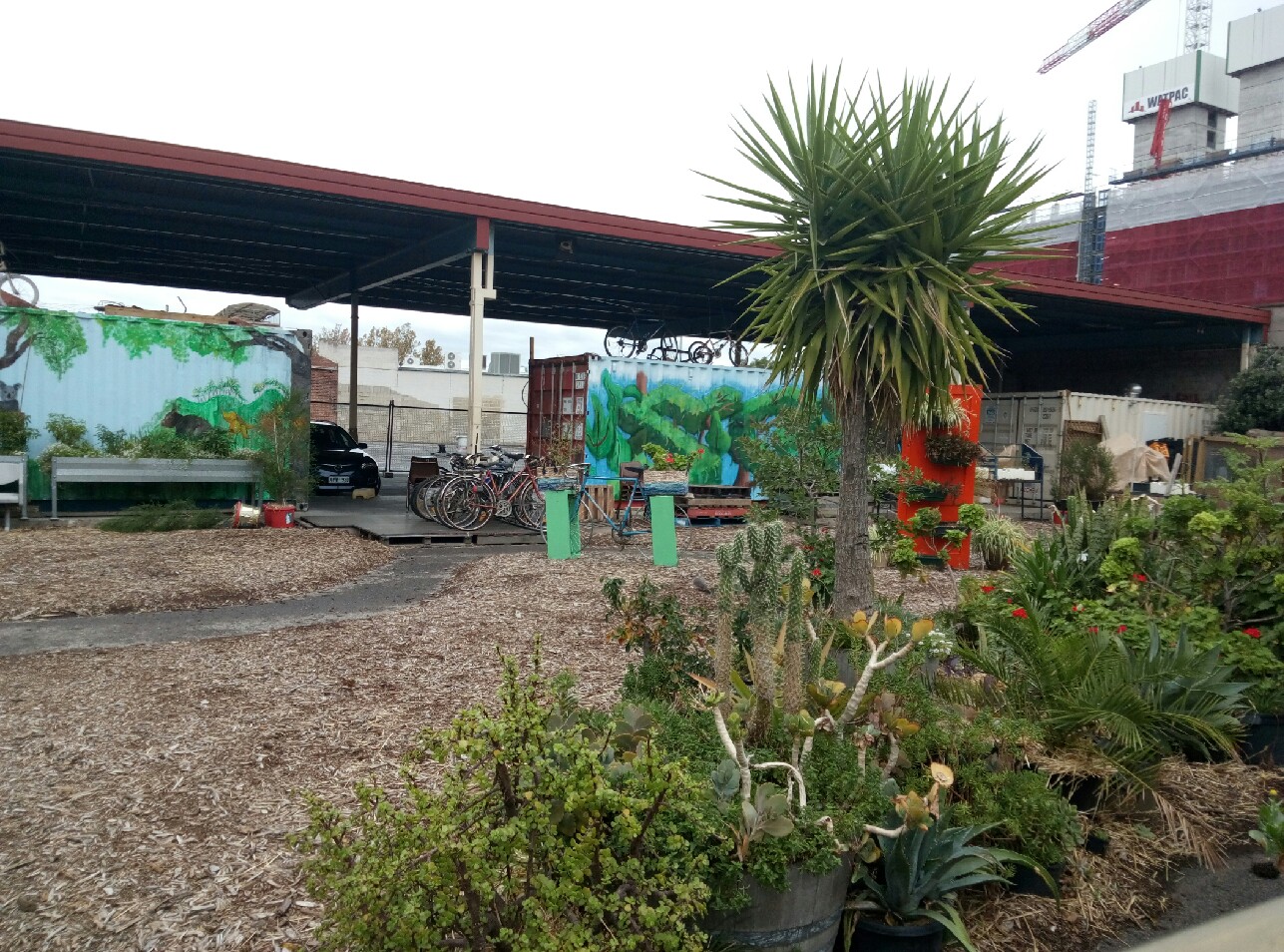 So whilst on a visit there earlier this month I took the camera-phone out for a day to capture a little of what is going on and to get an on-the-ground feeling of how Adelaide is doing for the everyday person on a bike.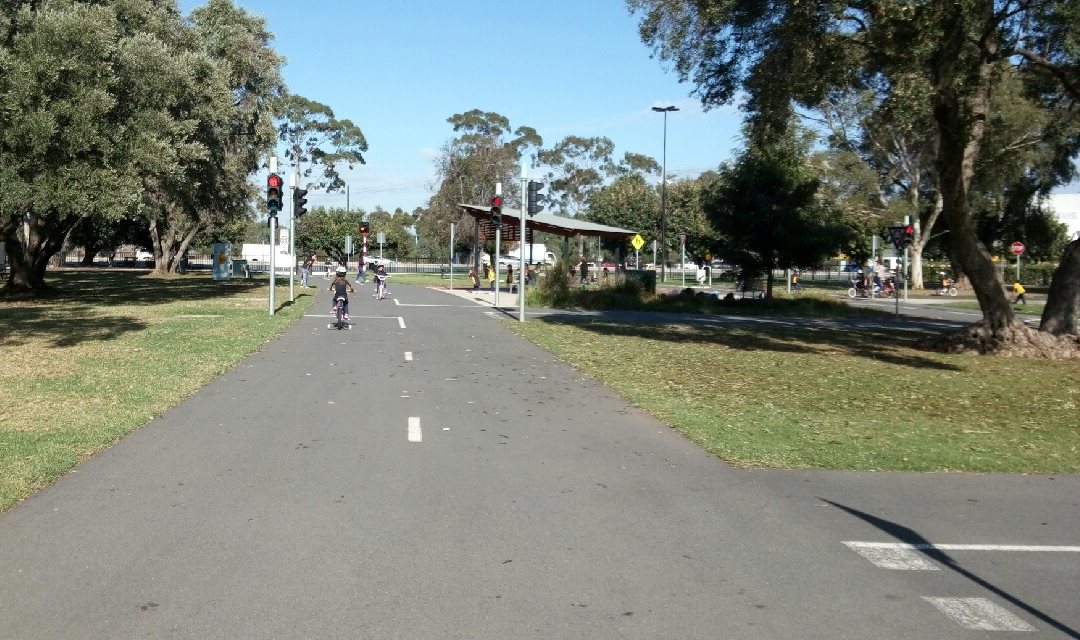 First up, if you are a tourist, then Adelaide is a great place to look around by bike.
The Adelaide Park Lands Trail is an 18km loop that circumnavigates Central Adelaide. It takes you easily through a range of landscapes with beautiful views. Best vistas are along the River Torrens where the buildings of the CBD are there in their glory, old and new alike, and plenty more currently under construction.  The trail is much more than a single path, there are many options to ride on wide shared paths through the linked up spaces. A sealed path links the city to the beach areas of Glenelg and Brighton. The coastal path from here is bike- easy both to the north and south, a total distance of approximately 70km.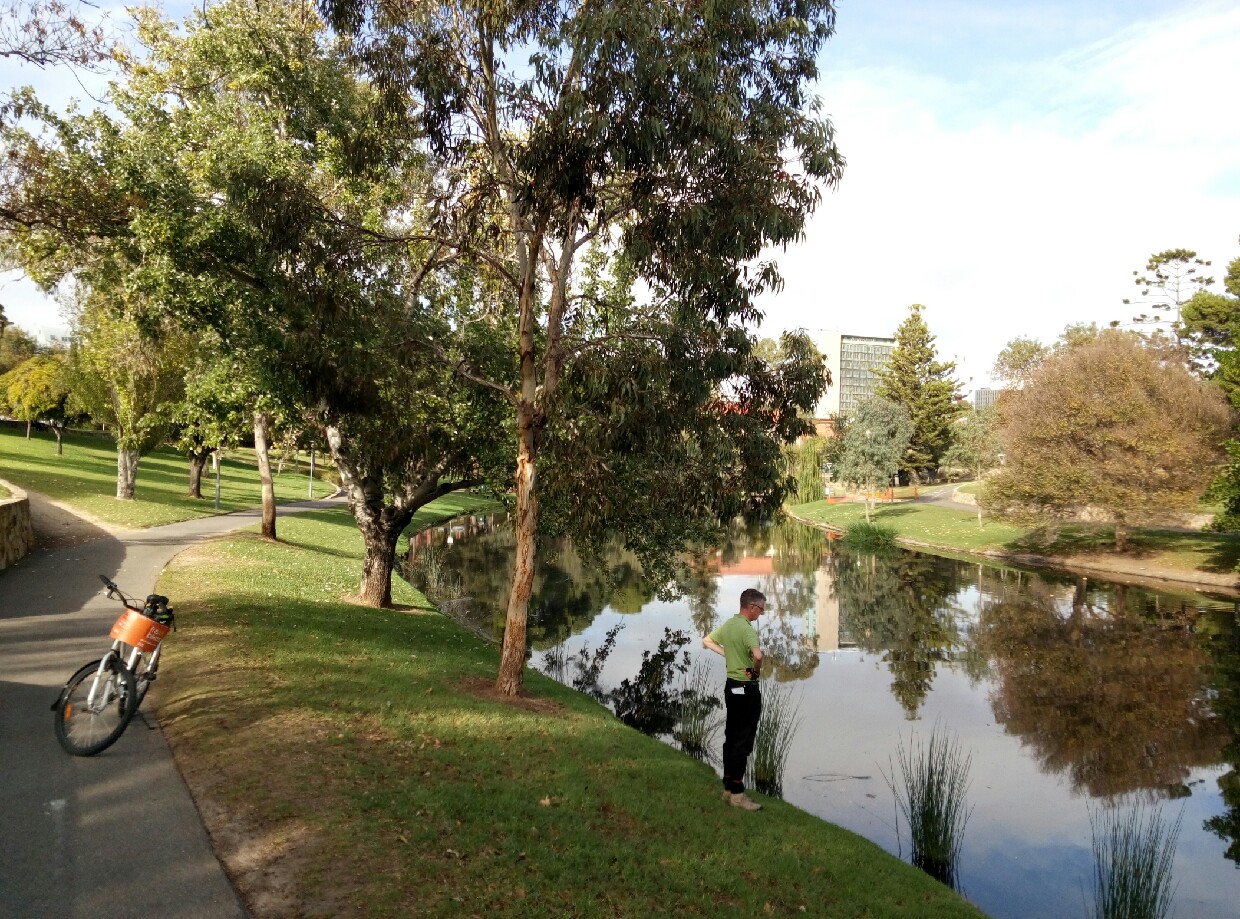 The good people at Bike South Australia co-ordinate with others to operate a fleet of free bike-share bikes from several locations.   Ideal for a day's amble around the Park Lands Trail.
As for the central city, it is certainly a 'city for cars'.  A grid pattern of wide streets, dual lane on some, makes car travel the option of choice, despite a comprehensive bus network, metro train and the light rail system. The latter is hugely popular, running from Glenelg to the city along the original tram route and extended recently to the Entertainment Centre.  Plans and budgets for major line extensions in 2008 were abandoned in 2012 due to the cost.  Single ticketing for all public transport options and a service of seemingly high standard makes public transport a good choice to get around. Radiating out from the grid patterned CBD are arterial routes with the expected peak time traffic congestion.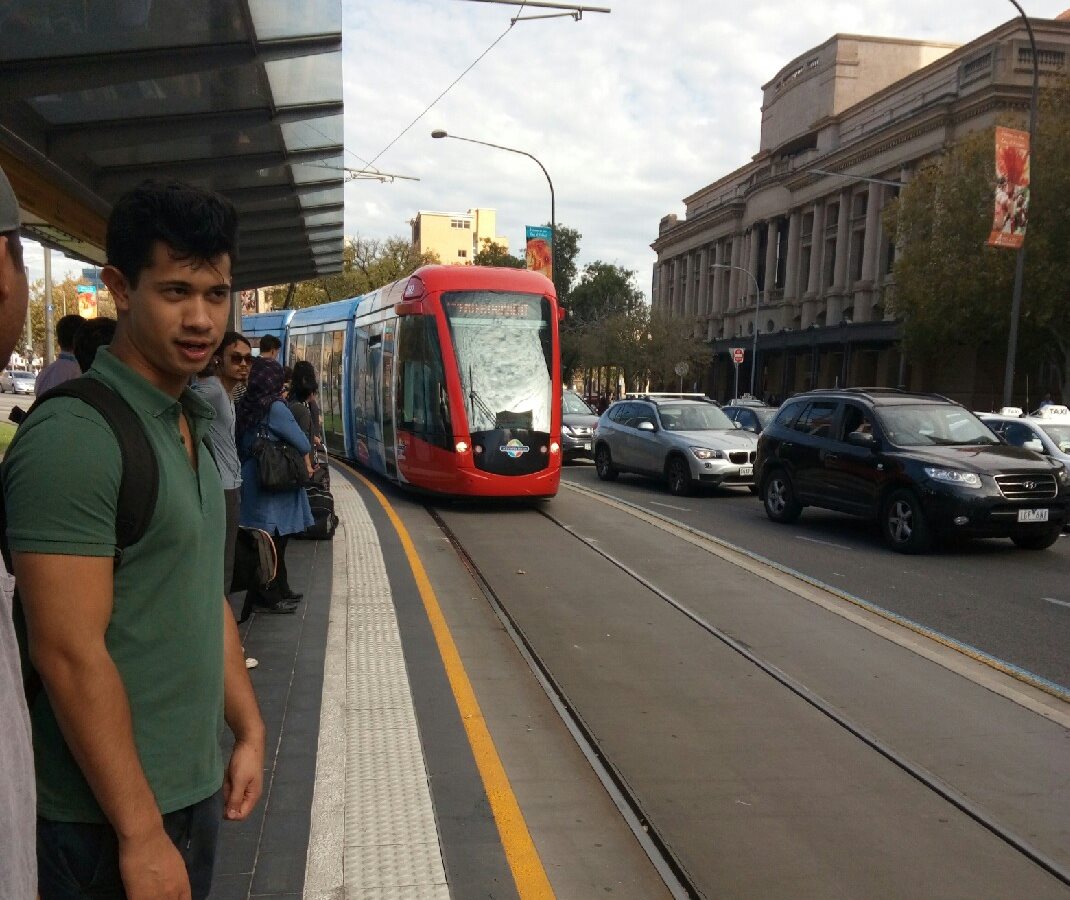 There is certainly a culture of cycle commuting to the CBD evident, particularly with young stylish urban workers and their colourful bikes. Inner city laneways have become routes to bike along, park your bike in, sit outside and enjoy the hospitality, creating a pleasant inner city atmosphere that we can hope will evolve in Christchurch eventually. Many of the inner city streets have bike lanes painted on, although they can be busy vehicle thoroughfares, so best suited for confident riders only.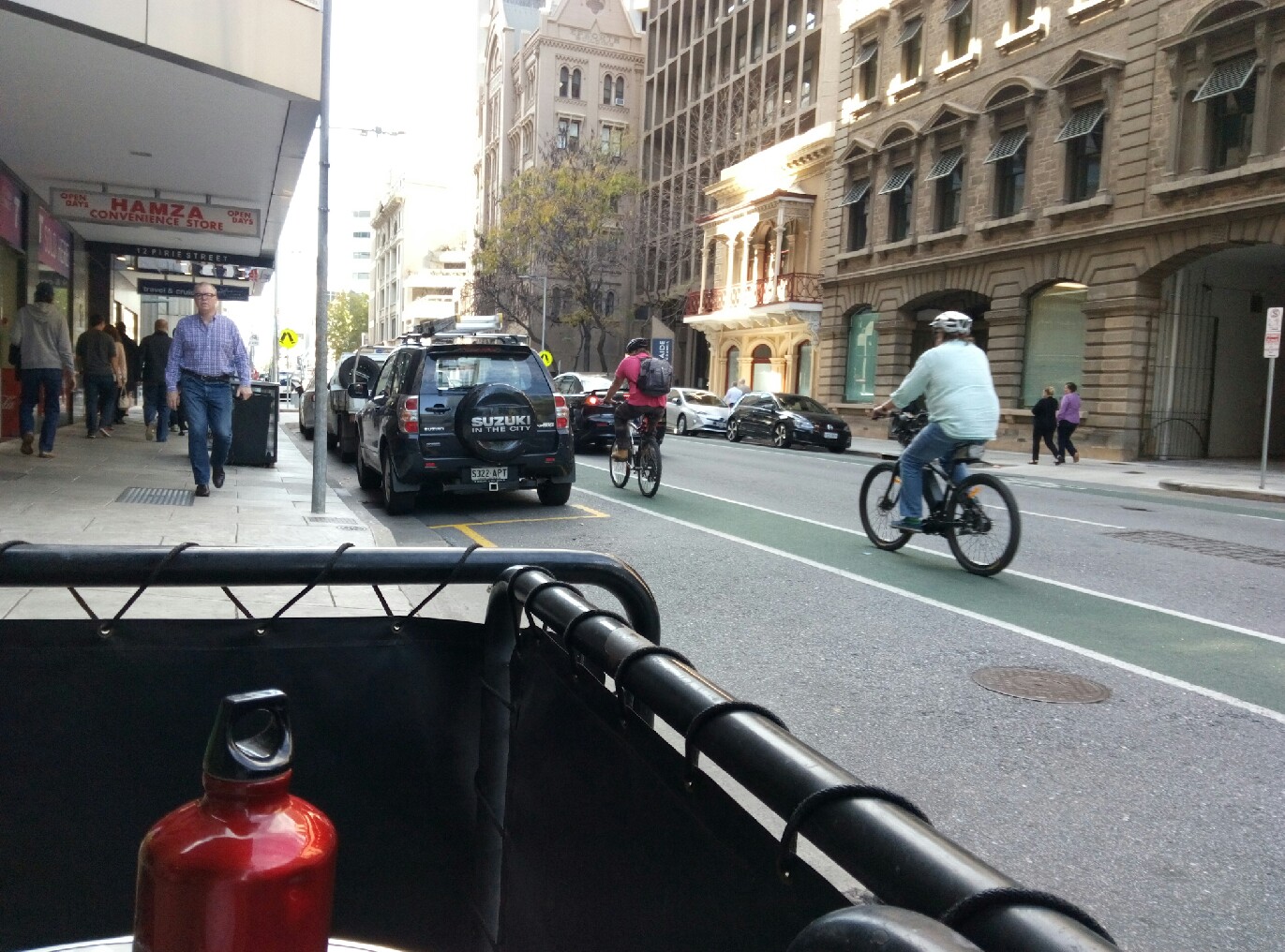 When it comes to separated infrastructure, Adelaide's  ''Island Bay Cycleway of Wellington fame" is an older cousin: Frome Street Bikeway. Of course we had to test ride the route to see what controversy had created.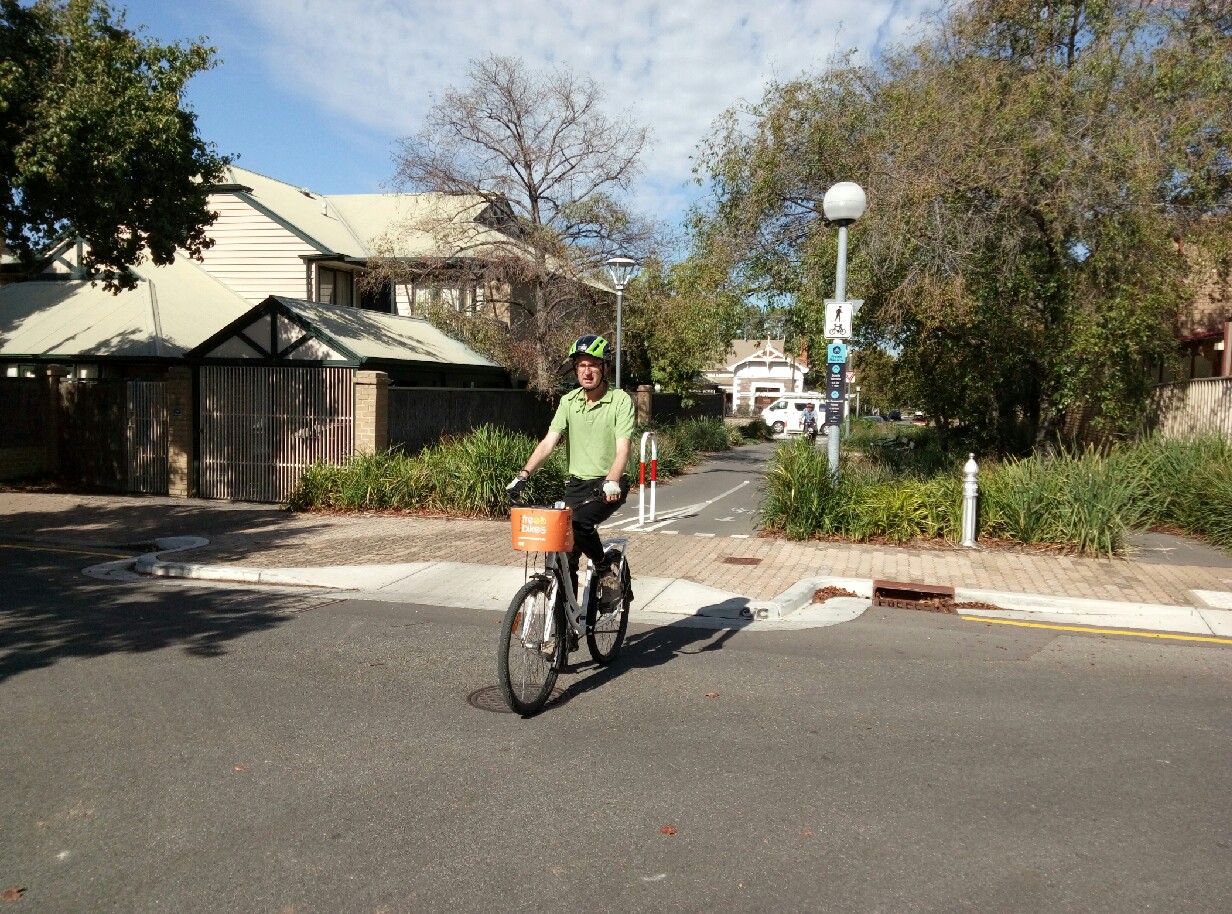 It was an interesting mix of separation along a busy road and cycle priority in neighbourhood green ways. It was nice to ride. Surveys performed up to a year after the opening of the Bikeway in 2014 give a mixed response to the perceived success. Initial confusion with the concept, along with lingering ill-feeling appeared to be evident in many responses. The Bikeway remains incomplete so the hoped for increase in cycling numbers has been steady, rather than dramatic.  This is not surprising as the Bikeway comes to an abrupt end at Pirie Street churning a rider out into a gap between parked cars and fast moving traffic, several hundred metres short of the University of Adelaide and a whole lot of other places you would actually quite like to go, such as the Museum of South Australia, the Art Gallery and the Botanical Gardens. Money has been allocated this year for safety improvements, but the future completion date is uncertain.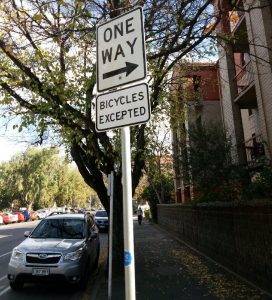 The Frome Street experience highlights the need to have a well planned and comprehensive network for safer cycling routes from the outset and stick with the programme, even in the face of local opposition.  Christchurch is on-track with the planning of our major cycleway programme, it is important that it stays firmly on the rails even in the face of opposition.
Whilst Adelaide is roughly four times the population of Christchurch it feels similar. The terrain is mostly flat and the Englishness of the buildings and well planned green spaces obvious. Call it our big sister if you like. Both cities need and deserve a good dollop of quality cycling infrastructure for future sustainable transportation systems and maintenance of quality central living in times of growth.
Have you cycled in Adelaide? What did you think?