Some months ago we told you about how you can combine your bus and bike trips for even greater flexibility, thanks to bike racks on most Christchurch urban bus services. Bike racks have been trialled in the city since late 2007 (the first in the country) and were made standard equipment on an increasing number of routes since 2010. Since then, a number of other NZ cities have followed Christchurch's lead to provide this useful service, including Nelson, New Plymouth and Dunedin.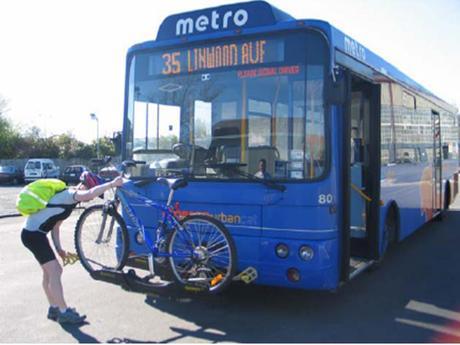 I've only used the service a handful of times, and occasionally I see another bike on the front of a bus. So how much does it get used? You would think that would be a fairly useful bit of information to judge its relative effectiveness, but apparently it wasn't being monitored for quite a while (admittedly we did have a few quakes in between to distract us…). Now however, the most recent agenda report for ECan's Regional Transport Committee contained an interesting snippet, repeated below: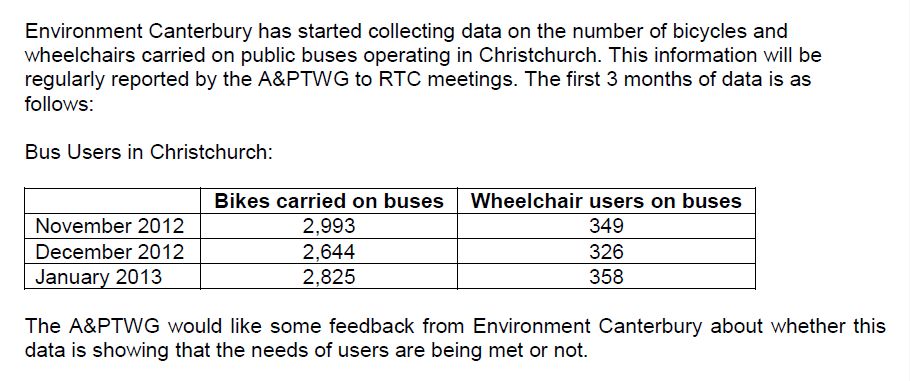 So the initial data suggests that bikes are being carried on buses around Chch nearly 100 times a day – that's not too bad; more than I might have guessed. It's interesting too that this usage is more than eight times the number of wheelchair users or buses being reported. Chch buses have had to be mostly wheelchair accessible for well over a decade now; it took a lot longer to get through all the legal and operational hurdles to make bike racks happen.
What they don't list here are the number of "incidents", e.g. bikes falling off or being damaged in some way. Prior to the trials there were a lot of concerns by some bus operators about the potential problems of carrying buses. I suspect that the number of incidents is zero (I'm not aware of any), but it would be useful to have that confirmed in this ongoing data.
It will be interesting to see how this small but vital part of the "cycle network" in Christchurch grows over time (and helps to grow actual cycling across the city). Hopefully ECan will be able to keep up the monitoring, so that we can see the take-up.
Have you ever tried taking your bike on a bus? How did it go?