Many of you may know that the Christchurch City Council's Annual Plan is currently out for consultation. Submissions close this Monday 10th April, so make sure that you have your say! As is often the case, some cycleways are under the gun (despite having already been consulted to death…), so make sure that you register your support for getting on and building them! So what were the topics of note 10 years ago when the Council was consulting on Annual Plans? Well, once again cycling was in the headlights, but this time for the promise of an extensive cycleway network around the city. And helping to demonstrate city-wide support for the plans was a petition that managed to garner over 1900 signatures in the end, which was plugged in this blog post from March 2013. The price-tag may have jumped from $69 million (a lot of that due to other street/utility works done at the same time) but already the benefits are starting to show – almost makes me wonder if we should initiate another cycleway petition…

Christchurch City Council has finally released its draft Three-Year Plan (2013-16) for public consultation. And arguably this is the most important one ever in terms of cycling…
The Plan sets out what projects, services and facilities Council propose to spend money on over the next few years (and also where the money will be coming from). It was actually meant to be a 10-year Plan, the standard "Long Term Plan" that Councils have to prepare and update every three years. However, with lots of earthquake rebuild still in the offing, and CERA and CCC still haggling over who's going to pay for it, the two parties agreed to a shorter plan for the interim.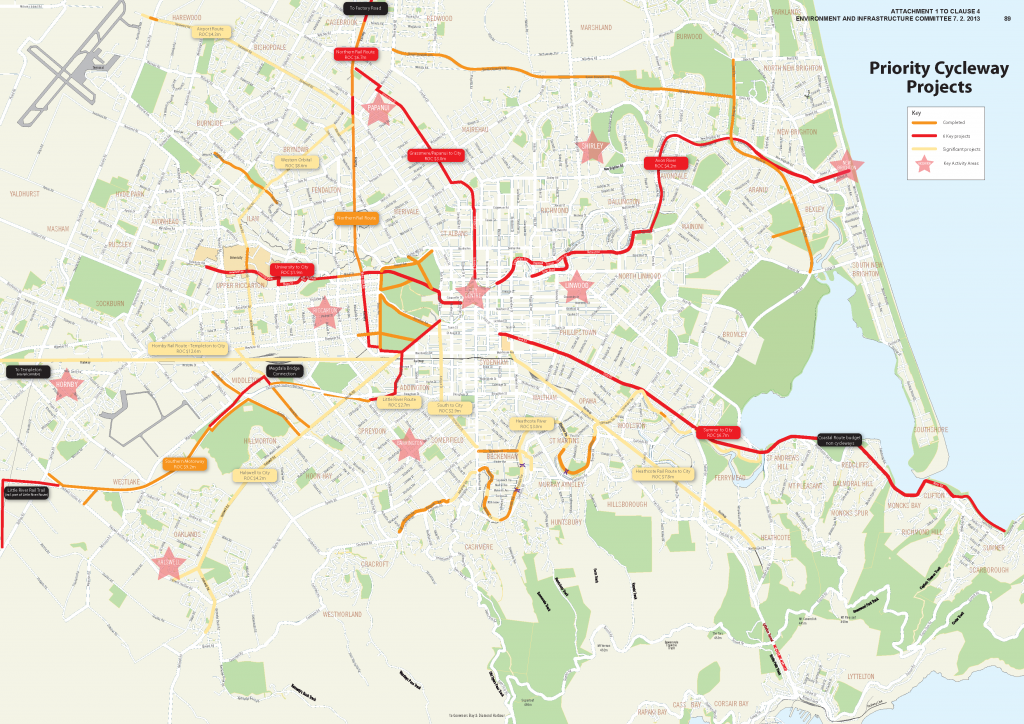 There are a number of interesting proposed transport projects that will probably benefit cycling (e.g. a few intersection upgrades), and we will look to report on these in the near future. But the headline act is clearly the proposed $69 million to be spent over the next five years on developing thirteen "all ages and abilities" cycleway routes across the city. This wasn't the original plan; Council were initially only looking at spending money on 2-3 routes in the next few years. But the Mayor proposed a way of refinancing within the existing budget to get all thirteen routes done, with a majority underway within the first three years.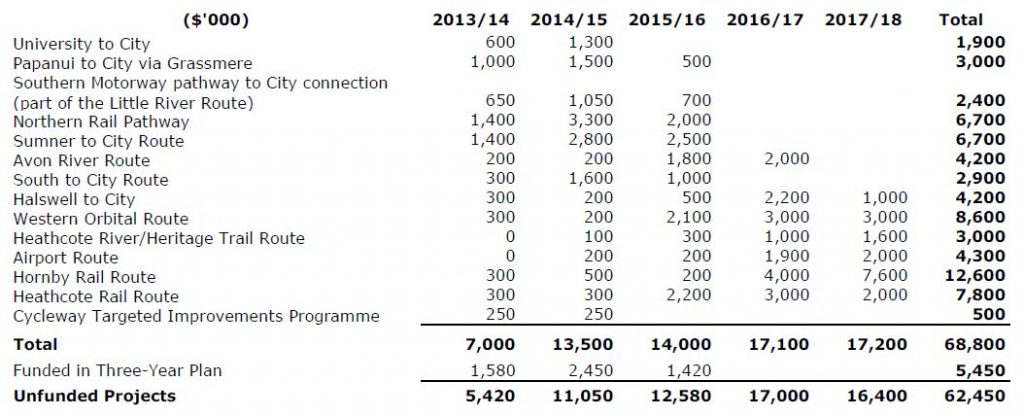 So fantastic news for anyone who'd like to see a more cycle-friendly city. However it's not a done deal until Council sign off on the final plan after reviewing submissions. And that's where you come in! It would be great if many of you want to "Have Your Say" and write in a submission, or even speak to Council. But we appreciate that not everyone has the time or inclination to put some words down or speak in public. So we've decided to create a petition that you and your cycling-supportive friends can sign.
If you look at the top right of this page or any page on Cycling in Christchurch, you'll find a "Vote for Cycling" petition. When the website was set up, this seemed like a nice way for viewers to demonstrate their support for what we're all about – a city where cycling is safe and convenient to do for anyone who wants to. In the nine-or-so months since starting up, just on 500 people had signed this petition. But with the recent developments at Council we realised that this could also be a vehicle for conveying the community's support for the cycleway proposals. So we've added one simple additional statement to the original intent: "I support significant investment in cycling to help achieve these aims in Christchurch."
Key Elements of "All Ages and Abilities" Cycleways
| | |
| --- | --- |
| Separated Bikeways… | Off-road Pathways… |
If you've already signed the petition, thanks for your support and please pass on the details to your friends. If you haven't yet signed, just click the petition link and fill in your details. You do need to provide name and email, but you can elect that your name is not listed online (hopefully though most of you are proud to be associated with such a great endeavour!). And forward the details to your friends – either just give them our website address https://cyclingchristchurch.co.nz, or you can share via social media, or you can just email friends directly from the petition.
Should we initiate another petition to show ongoing support for cycleways?