I've been a member of the NZ Automobile Assn for many decades. While I don't always agree with their policies in some areas, I appreciate the support when my car has broken down (could probably count on one hand the number of times I've needed it), the interesting reading in their quarterly magazine, and the various discounts I can get from them or various other suppliers.
A few years ago, AA broke new ground by introducing a new service to assist members with e-bikes that had broken down. At the time I thought it was a bit odd that it was only focused on electric bikes and not other ones. Now that omission has been rectified with AA's new road service for any members' bikes.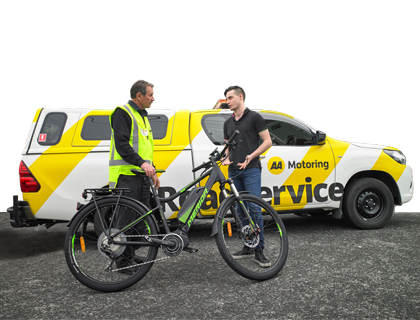 As per usual, you can contact AA on 0800 500 222 (or *222 on your mobile) for assistance, or use their mobile app to register a service request. AA Roadservice for bicycles will include tyre tube repair or replacement. They might also be able to help with other little repair details like e-bike electrics, or adjustments to other bike bits. For anything that can't be dealt with on site they'll provide a bike recovery service to get you home or to your local bike store.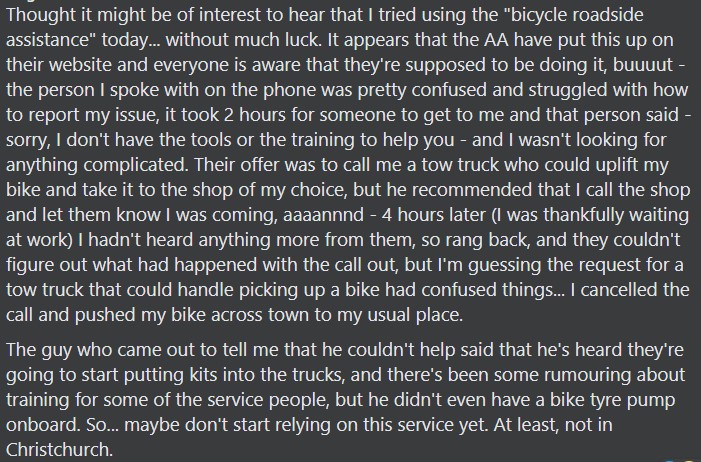 This sounds like another great initiative by the AA to broaden their member offerings. Judging by one early Facebook post experience (above), it sounds like it's taking a little while to get everyone in the organisation up to speed about this new offering but hopefully that is a minor teething issue…
Have you tried the new AA bike breakdown service yet?