A couple of central city street  improvement projects have been out for consultation over the last few weeks, with consultation originally closing this Monday 7th Nov – although in one case that has changed.
Let's start with the one where feedback is due this Monday. You may recall the earlier High Street improvements consulted on a few years ago and now all constructed – it includes a much-improved connection for cycling into town. At the time, plans were paused on how to treat the final southern section between Tuam and St Asaph St. But now they are ready to forge ahead with this work.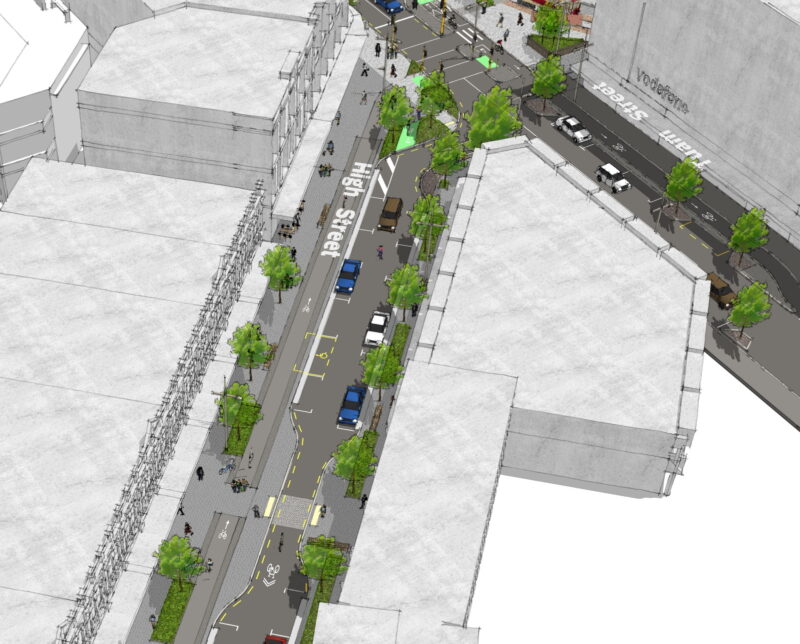 The proposal features a one-way roadway towards the south but with a contra-flow cycleway to the north. The street section is up at footpath level with a 10km/h speed limit and sharrows for shared cycle use south. At the southern end, two options are proposed, either with or without a new slip lane onto St Asaph St across the contraflow cycleway.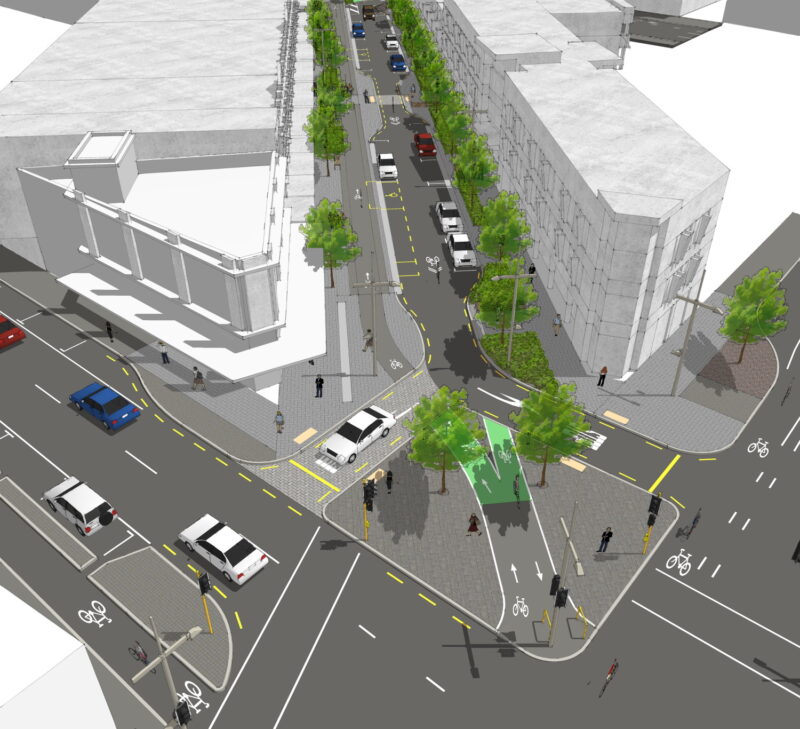 Generally the proposal looks great, and it's good to be restricting traffic access a little bit more while continuing to provide a useful cycling connection. I'm in two minds about the merits of the potential slip lane to St Asaph, especially cyclists on this busy route are expected to give way to traffic on a very minor link. It would also be good to provide better mid-block access to Little High Eatery's bike parking as well as thinking about where the current cycle parking (and handy repair stand) at the south end will be relocated to. Anyway, if you want to provide some feedback, do it by the end of Monday 7th Nov.
The other project released for consultation at the same time was to improve the various central city streets around the new stadium, Te Kaha. Originally this was also slated for comments closing tomorrow, but then somehow the new Mayor has pressed the pause button on the project, but feedback remains open for people to add their thoughts. UPDATE: submissions for this proposal now close on Wed Nov 30th…
The $33 million proposals address a lot of the remaining streets in the vicinity that have yet to be reconstructed post-quake, while also providing various multi-modal options for access to/from the stadium. As well as reductions in speed limits to join the existing city 30km/h zone, the adjacent western section of Lichfield St (Manchester – Madras) will also be dialled down to a one-way slow street with more space for outdoor entertainment.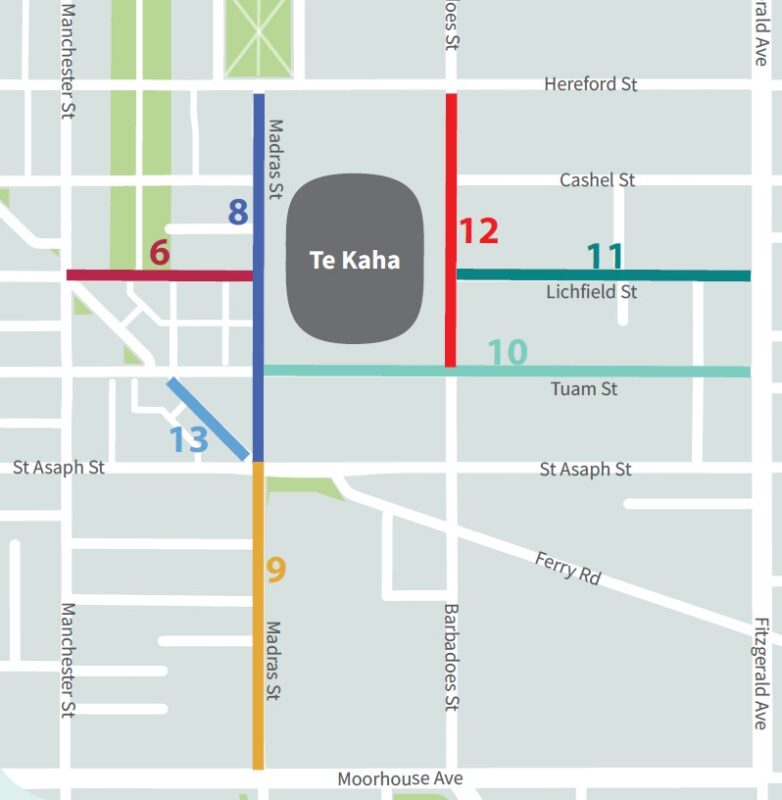 There are various aspects of the proposal that don't seem to be fully thought through yet. One intriguing feature is that, for a stadium where it is expected that a reasonable number of people might bike to events, a grand total of 43 bike stands have been provided on the immediately surrounding streets. It's not clear whether the stadium itself will have further bike parking; certainly there appears to be plenty of spaces on site where more could be located.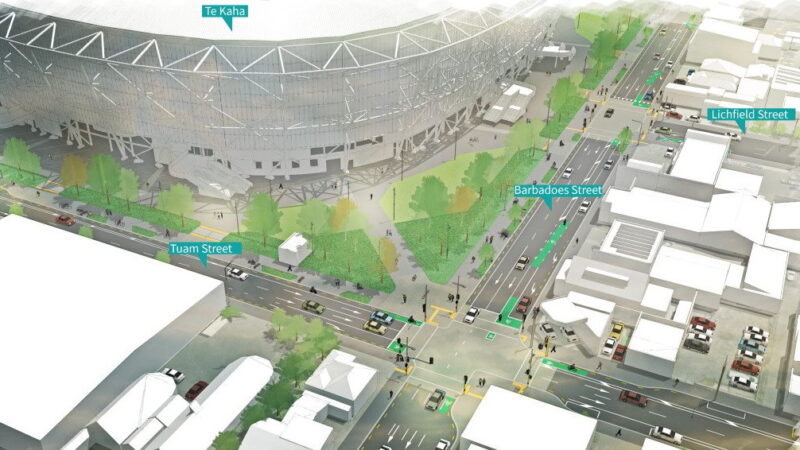 Related to that, it's not entirely clear how one might easily access much of that bike parking, e.g. on Madras St the cycle lane is on the opposite side of the road. For pedestrians, the crossing points also seem rather small given the thousands who will be heading to and from the stadium at big events. And some contra-flow cycle option along Lichfield St would be nice if it's going to be turned into a one-way slow street.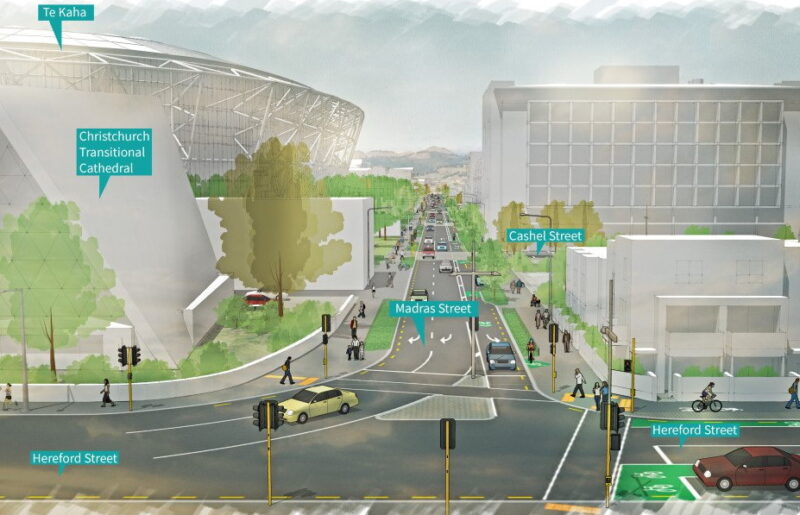 Perhaps not surprisingly, some local businesses and commentators have decried the plans including loss of on-street parking (despite the presence of three large carpark buildings nearby) and the expenditure on central city streets ahead of other areas (despite the street damage suffered in the central city too). While delaying these proposed works a little bit might make sense, it would be foolhardy to not have them in place by the time of the stadium's completion by mid-2026. The claim that on-street dining on Lichfield will be unpleasant due to the "beastly easterly" is particularly amusing because – surprise – there will be a giant stadium now blocking that wind…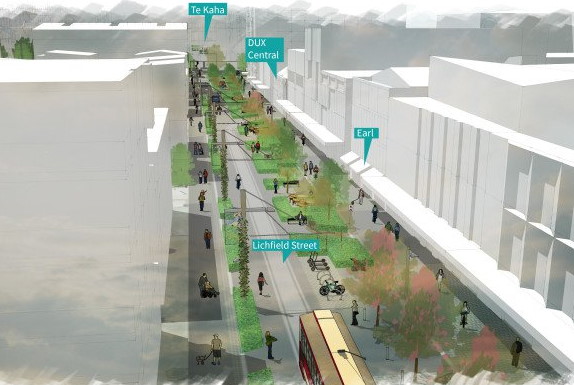 As mentioned, a new closing date for feedback hasn't been determined, but it probably pays to get some feedback in to Council sooner rather than later.
Don't forget too about the safer streets speed limits consultation also out for another month; I'll talk about these more in a separate post.
What do you think about these street proposals?