Nearly seven years on from this Mar 2015 post, and a new job later, but the crazy-busy-ness in my life is still there – and I have been feeling a bit sniffly again this week (not Covid fortunately…). That's why a bike ride or two is still an important part of my daily routine to clear my head and collect my thoughts, even on the days when I've been working at home (plus I need to keep adding to the Aotearoa Bike Challenge numbers for the team!). I think as a society we're a lot more aware now too of the importance of acknowledging and supporting our mental health issues. There are many ways that you can deal with these, but personally a good bike ride is certainly one of the better ones…
Phew, what a week… 16 lectures to prepare and deliver, a bunch of student research meetings, preparing for a conference this coming week, and the usual emails and admin to deal with. It meant a lot of late nights followed by some equally early starts. The lack of sleep certainly tested the body's resilience.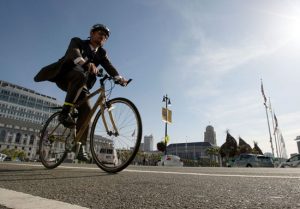 And yet, as I rode home on Friday evening it occurred to me that, if I didn't have the 35 minutes or so cycling at the start and end of each day, my body may well have been in worse shape. We've discussed the various health benefits of cycling before and it certainly gets the acid test during times of high workload. A couple of times, I thought that a sniffle (or worse) was imminent during the week, but a burst of energy on the bike usually seemed to deal with that.
Biking is also a great time for reflection. Half an hour in the morning and evening (even with the occasional traffic to deal with) is ample time to think about the tasks of the day and those to come. Like Einstein, some of my best ideas have come while riding my bike.
Practically speaking, cycling also proves to be a great time saver too. All week I've had to switch between my office in Engineering, undergrad teaching at the Dovedale campus, and postgrad teaching at the Kirkwood teaching rooms. With each of these about a kilometre apart, using my bike was the obvious way to get around in a timely manner (not that the crappy weather helped, but then there are ways to deal with that).
I still have another ten busy days before I can take a pause on my sabbatical leave. No doubt my bike will continue to be a valuable ally to keep me going…
Do you find that cycling recharges your batteries?