As you may be aware, the Governments of the world are currently trying to sort out their obligations to tackling climate change at the COP26 Summit in Glasgow. So what does that mean for transport? Well, while there has been a lot of noise about electric vehicles, practically speaking it's also going to rely on much greater use of public transport and bikes (and if these modes are electric powered, then that's great too). Sometimes the even better option is to combine the two to get the best of door-to-door flexibility and long-distance travel. This blogpost from Chrys (first posted in Oct 2014) shows how in Christchurch we have already been making use of the two modes together for over a decade now – even if sometimes it can be too popular for its own good…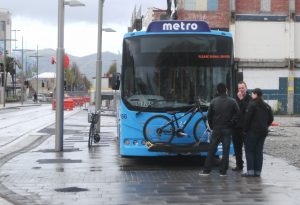 Great cities allow people to get around them in many different ways and to mix and match transport forms.  Christchurch already has some facilities that allow mixing and matching to happen, so I thought I'd reflect on this for a post or two – particularly with reference to the ways in which I see people mixing and matching cycling with other transport forms.
Bikes on buses first started in Christchurch around 2008 as a trial and now there are bike carriers pretty much on every bus route in our city. And I'm increasingly seeing bikes on the front of many buses moving around the place.
This has been a great initiative and personally I have put my bike on a bus a few times – often to get myself through the tunnel to Lyttelton or to get into the City from Lincoln which is a long ride, particularly in a strong Easterly. I know people that do quite long bike legs on either side of a bus trip across the City and others that use a bus to get themselves into town for meetings on rainy days – but they can then bike home, since getting home wet is not the problem that getting to a meeting wet is!
The pity of it is that on some routes, this great system is a victim of its own success. A friend noted the other day that he no longer uses the bus from Lincoln (even though he would like to) because he can't rely on there being a bike space on the bus when he needs it.
People in Lyttelton also have been talking about this problem for some time. The only thing Lytteltonians can do is get into their cars to get themselves through the Tunnel which is closed to any active form of transport. I guess it is possible for these guys to drive through the tunnel with a bike on board and then park up and ride the bike.
I imagine the same issue may be arising on the northern and western sides of town where it makes sense of people to catch a bus as a way to avoid busy, fast rural roads with little in the way of a shoulder, or to cover distances that are daunting on a daily basis for most of us.
Do any readers use the bikes on buses facility regularly around Christchurch? How do you use it and have you experienced any problems with getting your bike onto a bus?