Seven years ago I was hugely involved in a significant exercise in the biking space: a national cycle safety panel. It was an amazing experience that led to the forging of many great ongoing connections with some talented people. More importantly it became the catalyst for some significant investment in cycling expenditure in this country – to the tune of almost $1 billion recently announced in national funding for walking and cycling over the next three years. And the recommendations led to some dramatic changes in the way that cycling best practice and provision is undertaken in NZ. This post (originally from Oct 2014) outlines the draft recommendations and which ones are proving to be still contentious, even now….
It seems like a long week since the tragic events of last Monday when a cycle tourist lost his life in Hornby courtesy of a turning truck. As timing goes, it was intriguing that this was also the same week that the truck driver from April's cycle fatality was also sentenced. And, although they were already out for two weeks, the draft recommendations from the Cycle Safety Panel poured a bit more petrol on the media bonfire.
Some time ago I told you about my new little side-distraction: being part of the National Cycle Safety Panel. That seems like an eternity ago now, what with a whole raft of multi-day meetings and piles of reading since then. Now the first fruits of that effort have been revealed in the form of the draft report and recommendations. With the recent fatality, it is pertinent to consider how the recommendations might have made a difference in this case and similar ones.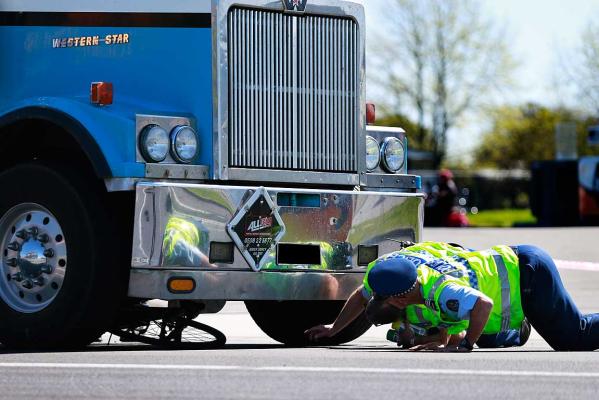 There is no silver bullet to cycle safety; even those who think it's just about more Dutch-style infrastructure would do well to remember that nearly 200 people/year still die while cycling in The Netherlands. So the Cycle Safety Panel came up with a wide range of ideas that were based around the "Safer System" approach targeting roads, speeds, vehicles and road users. Thirteen broad recommendation areas were proposed (see below), although most of them include a number of more specific suggested actions.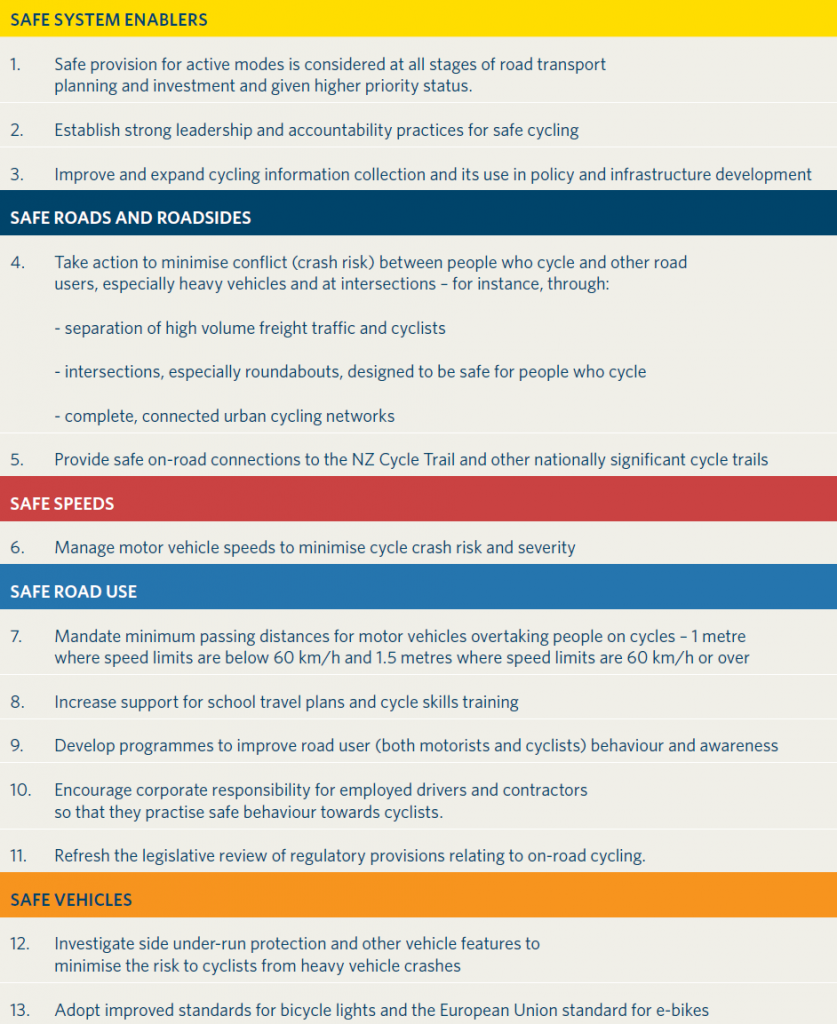 One thing the Panel recognised was that the problem is arguably more about perceived safety rather than actual safety. Yes, things could always be safer, but cycling in New Zealand is already not the extreme sport that some make it out to be. However, by coming up with proposals that will encourage more people to cycle, we will also improve the situation by virtue of the "safety in numbers" phenomenon.
Another thing that was quickly identified was that most of the likely solutions to improving cycle safety are already well known – the problem is that they are not happening here. There are a myriad of reasons why that is the case, from unhelpful central/local Govt policies and practices to oversights in our legislation. So a lot of the suggestions listed above are more about "process issues"; things that might be changed by the flick of a pen or a better auditing procedure, and ultimately just more people making a commitment for things to happen. Not as sexy as cool new cycle infrastructure on the ground, but no less important.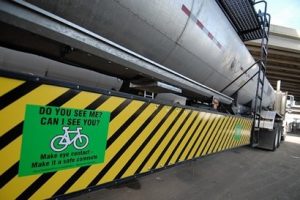 A couple of the proposals got particular attention this week, particularly in relation to truck safety. First was the suggestion to install side under-run barriers on trucks to prevent cyclists (and pedestrians) from getting caught under passing trucks. These are mandated in Europe and common elsewhere overseas, but the local truckies aren't convinced about the merits compared with the cost of fitting these. A preliminary investigation here suggested that there was some safety benefit to be had (esp. for fatal truck crashes), but more investigation of all the costs and benefits in the NZ context is needed. It may be that technological solutions like blind-spot cameras and warning sensors may be more cost-effective, although they probably wouldn't do much about overtaking-related crashes.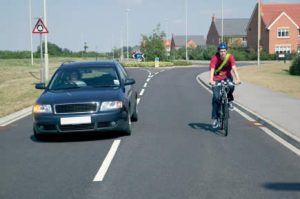 Overtaking was also much in mind with the proposal to introduce a mandatory minimum passing distance when overtaking a cyclist, which is now quite common in the US. Like the recent introduction in Queensland, the suggestion is for a 1.0m gap on roads up to 60km/h and 1.5m for faster roads. Perhaps predictably there has been a flurry of complaints from people that it would be impossible to pass a cyclist in many cases with such a rule. That's the point: if it's not safe to overtake in the same direction, you are expected to either slow down and wait, or to overtake using the next lane over when the way is clear. Interesting how so many people jump straight to the default of trying to squeeze past between a bike and an adjacent motor vehicle – that's how crashes happen…
There are of course a number of other initiatives proposed that would also affect the safety of truck-bike crashes. The Panel also suggested:
Better planning to locate major freight and bike routes in different places where possible
More use of infrastructure that provides separated bikeways and separate phasing at signalised intersections
Greater use of lower-speed street environments, especially away from arterial routes
Running more "road user workshops" to get cyclists and professional drivers to sit in each other's seats and discuss road interaction issues
More cycle skills training programmes for adults and schoolchildren, to improve good riding techniques and awareness of common hazards
Greater use of programmes to make road users aware of how to interact with each other (e.g. knowledge of blind spots around heavy vehicles)
More onus on employers to ensure that their drivers are suitably trained and vehicles suitably equipped to interact safely with people cycling
Watch out soon too for news about some cycle safety initiatives happening around Christchurch…
It's not just trucks of course; other motorists are involved in 70% of fatal and 94% of injury cycle crashes. So many of the recommendations are also geared at tackling all of these crashes too (not to mention the even greater number of "cycle-only" crashes, such as hitting roadside objects or sliding on gravel). It it likely to take a combination of infrastructure, legislation, speed management, road user education, vehicle changes, and simply improvements in the way that we develop and maintain our road network.
The Cycle Safety Panel will be meeting with many key stakeholders (e.g. road user groups, central/local govt organisations) on Oct 17th to hear their feedback. You can also send your individual feedback to cyclingsafetypanel@nzta.govt.nz by Fri 24 October (2014). After that the report and recommendations will be finalised and passed on to the incoming Transport Minister in November.
What do you think of the draft report and recommendations? What's good / so-so / missing?