It's been a very busy week of work and social activities; hence the lack of blogposts lately. One of those events (pre-lockdown) was the Electric Avenue music festival – very fun, but disappointing again to see zero consideration of bike parking at this event for the numerous people who rode there… These thoughts had me thinking back to this post, originally back in Dec 2013, which asked whether much consideration is given to biking to major events – seven years on, are we any better?
As the golden weather starts to kick in, we're also starting to see a lot more fun events to get to around Christchurch. But will you be able to ride your bike to them? And will there be some bike parking on hand when you get there?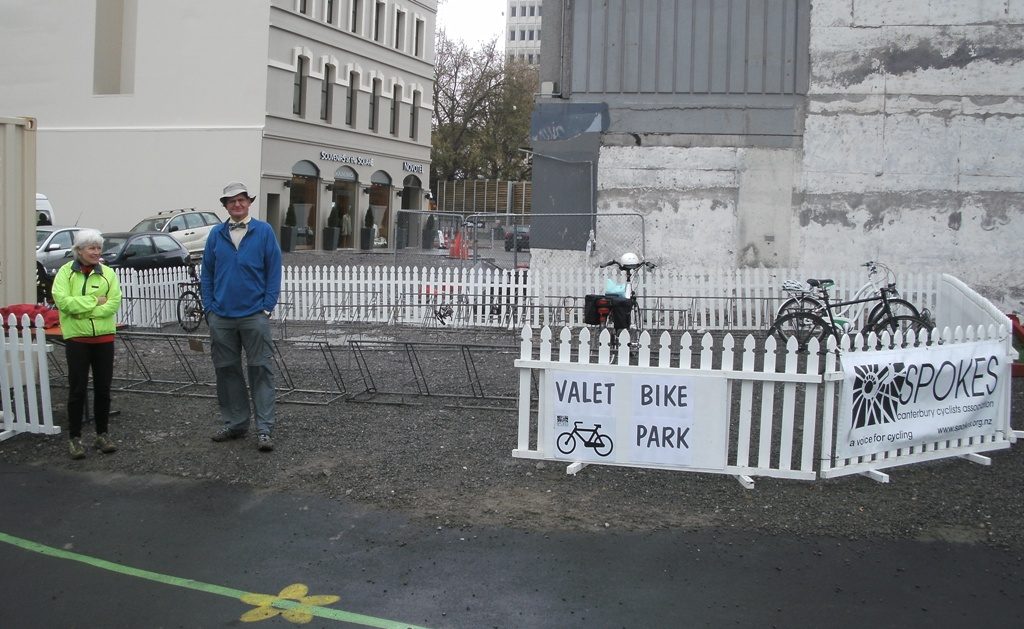 Last week, mailboxes all around the city received a booklet outlining lots of summer events coming up, courtesy of the City Council's Garden City Summer Times programme. However there was scant mention of how you could bike to any of them. Ironically, in the same booklet was a page advertising the new cycleways coming. Hmm, left hand not knowing what right hand is doing…?
Consider also the recent Coca-Cola Christmas in the Park on Nov 30th. This was held in Hagley Park, and there was some publicity and a map explaining how to get there by car, bus, walking… and that's it. When asked about provision of cycling information, the official response was "Our travel advisory on how to access the event and parking info is for all road users. We are presently not aware that there is any special parking area set aside for bicycles; that would be the responsibility of the Christmas in the Park organisers". Um, shouldn't that be a Council requirement of their event management plan (or whatever they're required to do to have access to Hagley Park)?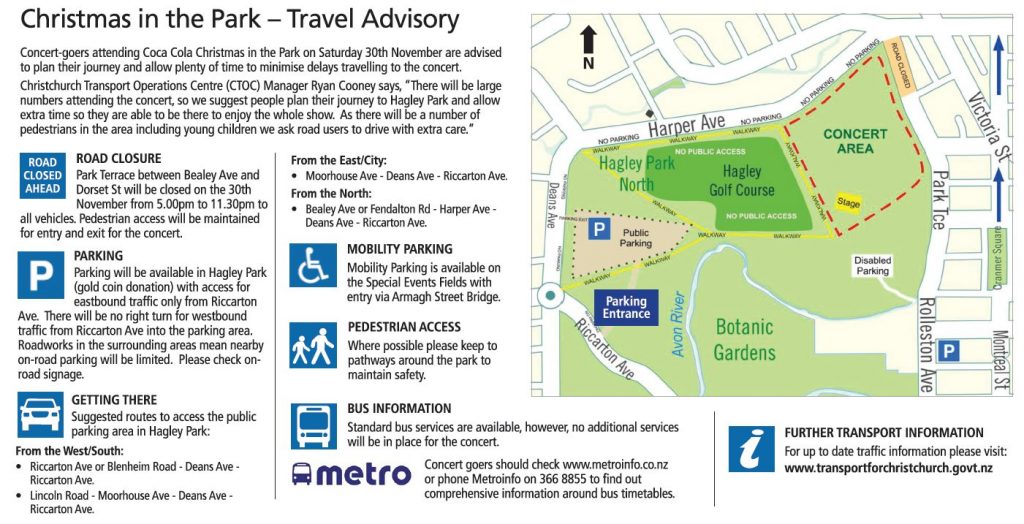 What about other notable recent or future events around Christchurch?
Ellerslie Flower Show: Nothing except cars and taxis; apparently people are only going to drive there. For good measure, the Flower Show will also block off the main cycleways through Hagley Park for 12 days (this is for an event that's only 5 days long…).
World Buskers Festival: Yay to the Festival team for encouraging walking and biking! A bit vague on the details, but we'll trust them when they say there will be "heaps" of bike parking.
A&P Show: Better than most in acknowledging biking and providing bike stands. No actual advice on how to actually get there by bike, but we've provided some advice on that.
Any others you can think of?
The Council's VBase operation isn't much better in regards to access to events at AMI Stadium and the CBS Canterbury Arena. Unless you're coming by car or bus you don't count…
Quite a lot of events seem to be centred on Hagley Park (e.g. this weekend's Wine and Food Festival, Classical Sparks). So to help those who might want to arrive by bike, here is a map of how to ride in to Hagley Park (obviously parking locations will depend on the exact location of the event). The blue lines indicate existing cycle lanes, pathways, and quiet street routes; the red arrows indicate some of the friendlier ways in. Hopefully there'll be some even better routes in the near future to make the journey even more pleasant by bike.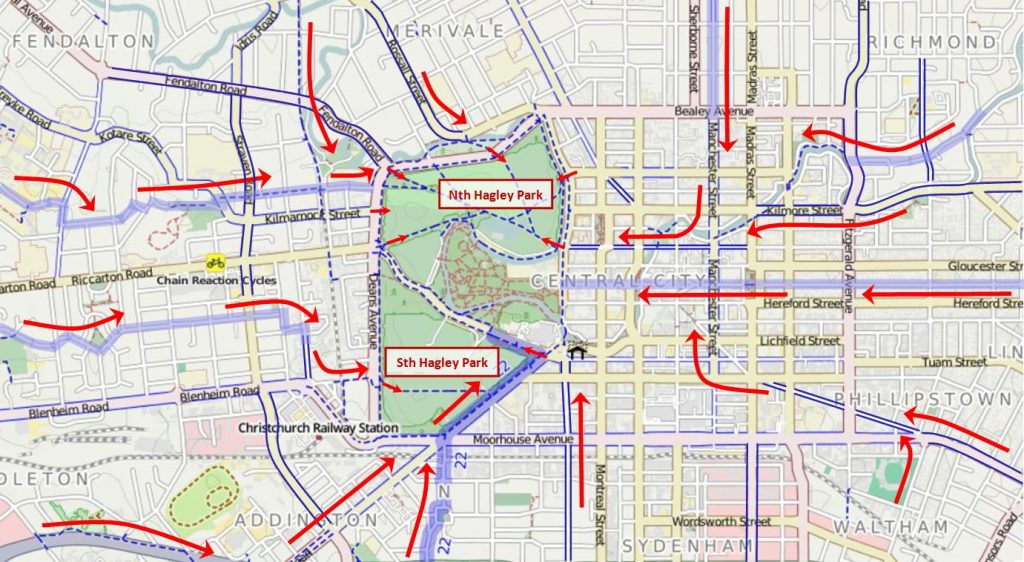 You would think that it would be in the best interests of the organisers to encourage travel modes like cycling to busy events. Anyone who has tried to find a carpark at a major event (or tried to drive home afterwards at the same time as everyone else…) will know that these are not things to look forward to.
When I was in Chicago a few years ago, I enjoyed visiting their famous "Taste of Chicago" festival (good food, good music; definitely worth attending!). Now America is known for its valet car-parking service when you visit upmarket hotels, restaurants and so on. While I was there, I was intrigued to see that valet bike parking was being offered at Taste of Chicago, and indeed at a number of major summer events. We of course offered a similar service at the recent Open Streets here, but it doesn't seem to be a common occurrence here. Even Auckland has been doing a better job of providing bike valet at major events, including the recent open homes for "The Block" TV series and local farmer's markets where discounted zoo admission was provided as an incentive to ride your bike.
If Christchurch is planning to be known again soon as New Zealand's premier cycling city, it needs to remember that there is more to that than just some cycleways…
Have you been to any events around Christchurch where bike provision seemed to be a non-event?