The 2018 CHOCBAR (CHristchurch Otautahi Cargo Bike Annual Rally) happened on Labour day 22nd October 2018 and was enjoyed by 25 riders and three dogs. There are an increasing number of cargo bikes seen on the roads of Christchurch transporting adults, children, dogs, shopping, courier deliveries, furniture removals, catering supplies, kayaks, surfboards and hundreds of other large bulky objects.

Along with the line-up of very versatile Christiana, Yuba and Bullitt cargo bikes, this year featured some new vehicles not before seen at a CHOCBAR which has been going since 2013.
Steve Muir had his locally made long-john cargo bike with electric assist and wheelbarrow tray which are available for around half the price of imported cargo bikes and has a stainless steel front end which can be easily welded to add brackets to carry odd shaped items.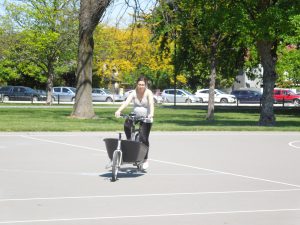 There were two rickshaws used by retirement homes to take residents on outings which have been very popular.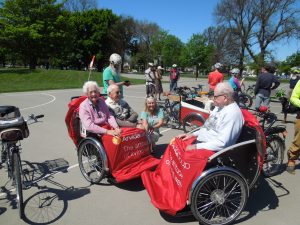 Also very noteworthy was a recumbent four wheeler made in Invercargill with a custom made trailer which allows the passenger to also assist with the pedalling (http://www.veryeco.com/)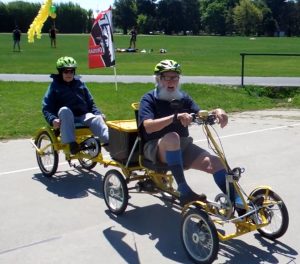 For the more Budget conscious there was a wooden bike trailer that had been constructed from recycled pallets a couple of weeks before at the bike trailer workshop, and provided very good load carrying space.  The wooden top bar extensions also provide some good load space at a very affordable price.
The fat trike with electric assist was also eye-catching, supplied by velo-ideale and more commonly seen cruising up & down the beach at New Brighton.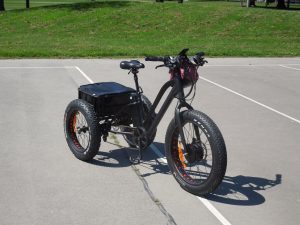 If you are interested in finding out more about carrying cargo here are some good links for local people who can help
Steve Muir www.cycletrailers.co.nz, steve@cycletrailers.co.nz, 0210619296
Action Bicycle Club, www.actionbicycleclub.com, 261 9197, ken@actionbicycleclub.com
Velo Ideale (Dave Whittam), http://velo-ideale.com,  ride@velo-ideale.com, 343-6444
Christchurch Electric Bicycles, www.christchurchelectricbicycles.co.nz, 021 188 4492