It's been pointed out often that "the plural of anecdote is not data", but maybe enough anecdotes can start to give you some kind of feeling for how things are changing. With that semi-convincing justification, it's time to muse on about 18 month's worth of my cyclist observations while biking to work.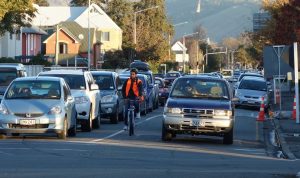 You may recall the (patent-pending…) exercise that I started last year on a semi-sporadic basis. The basic gist is: simply count all the people I see biking while on my ride to work, whether travelling along my route or across it. From this I can infer the likely city-wide cycle numbers and how much they might change over time.
Remember that this exercise was started at a time when we didn't have any regular official data to fall back on. That had also prompted Robert to start his manual morning counts around the city. But now, we have Council's fantastic SmartView site available to present us with constantly updated automated cycle counts at over 20 sites around the city so far. If someone complains now that "no-one cycles", I just point them to this site (and yet, still some will claim "fake news"…).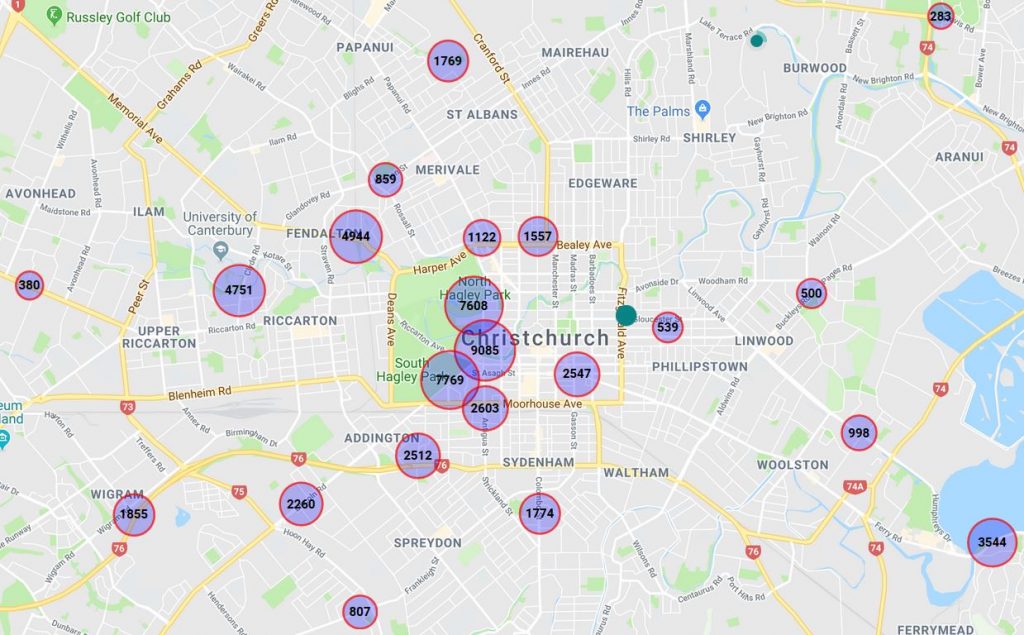 So perhaps I can retire from my en-route cycling observations? Maybe, but they do seem to suggest some interesting findings:
We are biking more: When I started in winter 2017, I was consistently observing between 13-19 people biking on my way to work; no more, no less. During the winter just experienced, counts above 20 were not uncommon, sometimes pushing 30. This of course tallies with the Council's own data findings that more people are cycling – a good news story.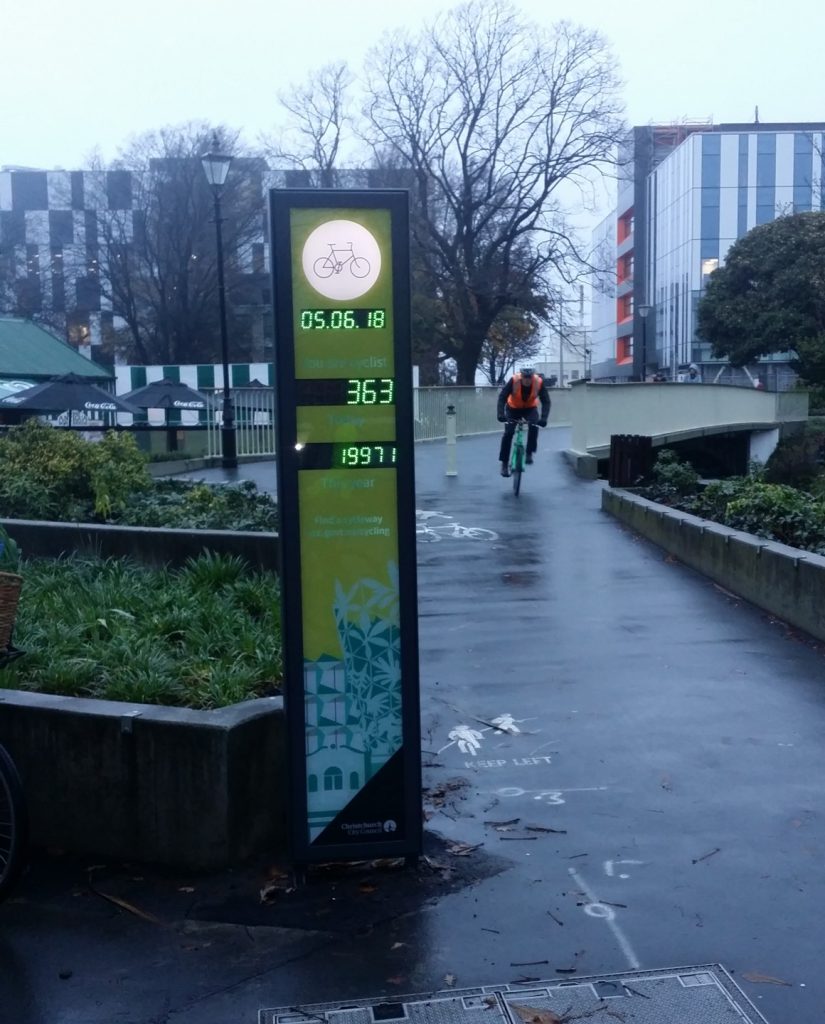 The cold never bothered me anyway: (at least parents with children will get that reference…) Some people grumble that Christchurch will never get high cycling use because of our "cold climate". As a city that rarely falls below freezing (unlike many cycling champions like Copenhagen or Groningen), I find that a bit laughable. And the evidence is quite clear throughout winter in Christchurch, single-digit temperatures don't phase people biking around; they just rug up more. In fact, the highest count that I ever observed was on a cool late autumn morning in May 2018 when I observed 42 people during my ride…
Evidently the rain does bother us though: We're clearly quite spoiled by our dry climate here in Christchurch; the minute it gets a bit wet and we don't yet know how to handle that when biking, and give up. The only times I have encountered single-digit counts on my rides have been when the weather has been pretty miserable (I think 4 is my record low); typically the numbers more than halve compared with an adjacent fine day. Fortunately, rain is not a common problem here; I suspect that riders in Auckland and Wellington don't quite have that luxury…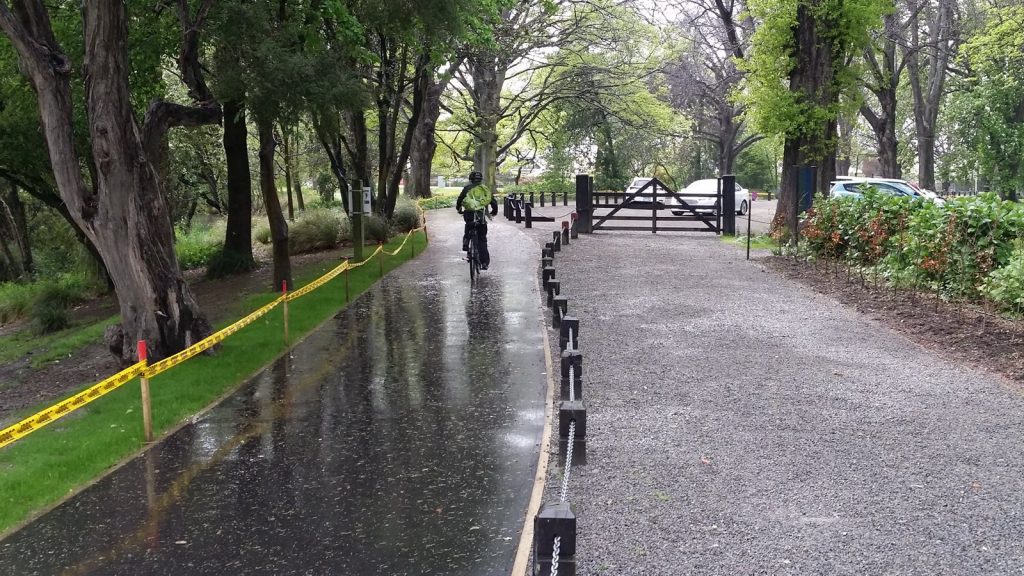 We are creatures of habit: I usually ride to work somewhere between 8.00-8.45am, so I tend to see a lot of people off to work, school, study and the like. If I stray too early or late (e.g. before 7.30 or after 9.00), the numbers drop away dramatically. So if someone says "I drove around in the middle of the day and saw no-one biking", there may be an element of truth in that – we seem to be used to riding our bikes for commuting trips in Christchurch, but less so (yet…) for other day-to-day activities.
But cycle movements can still be a bit random: Some mornings I have counted 20 people biking within my first km. "Wow, this is going to be a great count" and then… not much more for the rest of the trip. Then there are other times when I haven't even hit double figures 3/4 of the way there and then the final run along Fitzgerald Ave more than doubles that. The point being that, with relatively small cycling numbers, it's still a bit sporadic when and where you will see other people biking; we don't all make the exact same movements every day. That's why individual cycling anecdotes are not that useful; one day there's heaps of people, the next day not so many.
It's still a very small (and geographically focused) sample of counts and I think I will still be placing more faith in the SmartView figures (and the coming Census stats) than my occasional observations. But it does seem to indicate some useful patterns and trends, so maybe there is some truth in the alternative hypothesis that "the plural of anecdote IS data"…
What patterns do you observe in cycling around the city?