An interesting news article in The Press on Friday announced that a trial of a bike-share scheme for City Council staff would begin in Christchurch. The hope is that the trial would ultimately lead on to a roll-out of a full public bike-share scheme.
The mover and shaker behind this locally is Rob Henderson of Bicycle Ventures. We've previously profiled Rob's earlier efforts to get other bike-share trials underway around Christchurch, with two in operation at the University of Canterbury and District Health Board. In May, there was news about how the City Council was looking at the schemes, most notably driven by City Councillor Aaron Keown.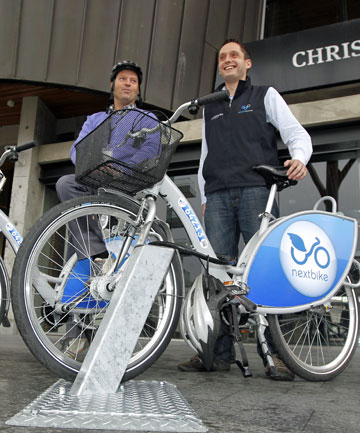 The concept plan was approved by the Council's Environment & Infrastructure Committee at their meeting last week. The bikes being offered are part of the "NextBike" bike hire system. A single station with two bikes would cost ~$10,000 to set up and around $4,000 each year thereafter. The bikes feature an advertising panel in the frame, allowing further income to be derived by the operator (a few of the bikes were recently used to help advertise the Open Streets event). Apparently a full public scheme, with stations right across the city, might cost about $1 million to set up, with an annual running cost of $200-300,000. The bikes would be free for journeys of under 30 minutes and cost about $4 an hour after that.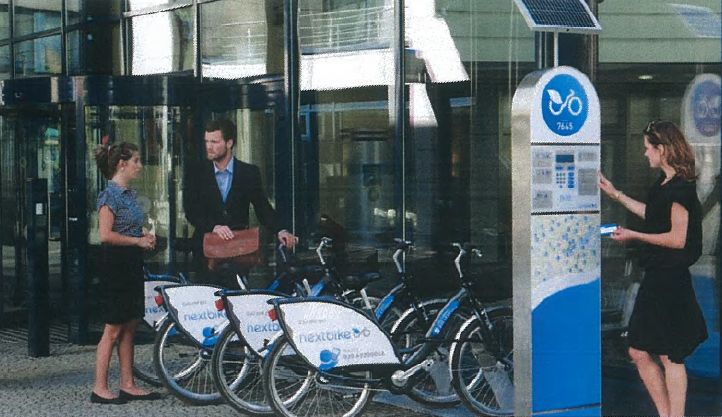 In the Council Committee report (6MB PDF), it was interesting to see that the trial at the Canterbury District Health Board estimated a saving of over $200/month per bike in terms of reduced taxi and pool car costs, as well as health benefits for the users. Apparently Tait Electronics and Christchurch Airport are also interested in trialling the scheme.
One tricky aspect for schemes like this in Australasia is the requirement to wear a helmet when cycling; indeed it can somewhat defeat the often spontaneous nature of grabbing a public bike to get somewhere. For now, the Christchurch bikes would each come with helmets, which would be regularly sanitised. But it is an issue that clearly puts some people off the prospect of using such a service here.
It's still early days for this programme. But it is promising to see the level of interest and support so far in getting public bike hire off the ground in Christchurch.