One of the things I realised when I was in The Netherlands a few years back was that their great cycle infrastructure hadn't happened overnight – it had been a series of gradual improvements as lessons had been learned from what was built. Granted, we can short-circuit some of that by looking overseas at best practice, but some things will still take time to get right for NZ. So it was that an early post-quake cycleway in Chch got a review after being installed (first posted in Jan 2014) and indeed, an improved version of this section was subsequently built with the Uni-Cycle upgrade…
Christchurch's first step into the brave new world of cycleways came almost accidentally with the reconstruction of Ilam Road near the University. What started out primarily as a pedestrian crossing improvement project ended up also providing some rather handy separated cycle facilities as well. It has not been without its controversies however and the City Council are keen to learn what they can from it as they move forward to delivering major cycleways across the city.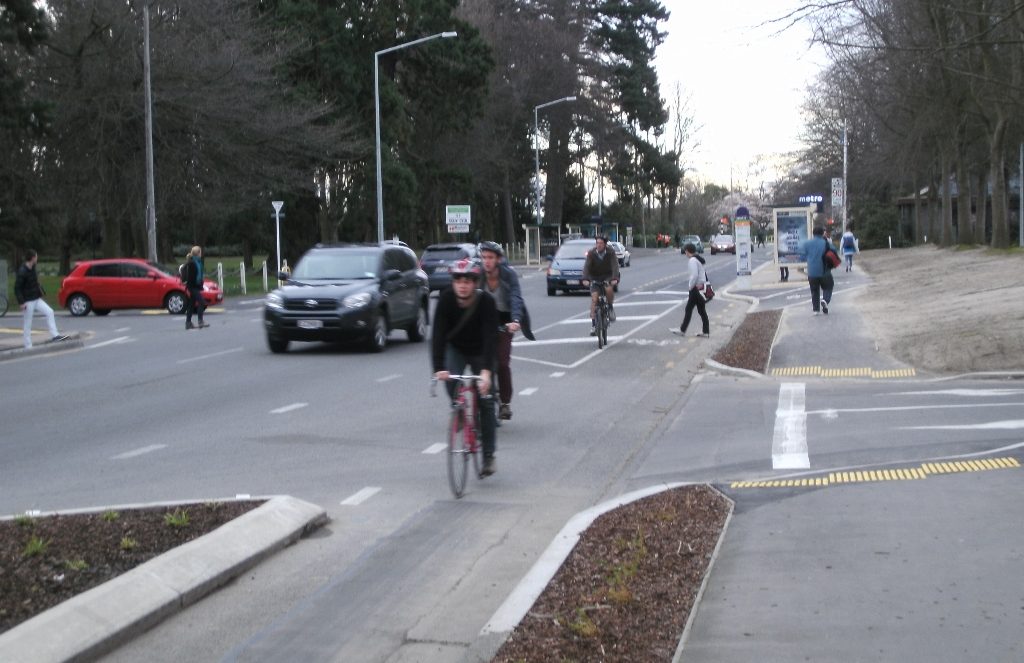 With that in mind, I've been fortunate to be involved in an exercise auditing the Ilam Road project. This is looking at the safety, operational, and construction/maintenance aspects of this project, with a view to identifying some lessons learned for the future Major Cycleway projects around the city. Given that many of the facility types being planned for Christchurch are relatively new for the city (let alone NZ), it's important that a consistent process is developed for implementing these with some uniformity and without major drama.
Clearly a lot of interest (and angst) has been on the concrete kerb separators used along the road. There are a range of potential separator options that have been tried around the world, as noted previously. The separators here have been noticeable by their relatively inconspicuous appearance (if you're not looking for them) and distinctly unforgiving nature if you hit one (which has clearly happened quite regularly). I actually wonder whether simply putting the mountable side on the traffic lane side might have minimised many of the grumbles, whilst retaining the protective effect..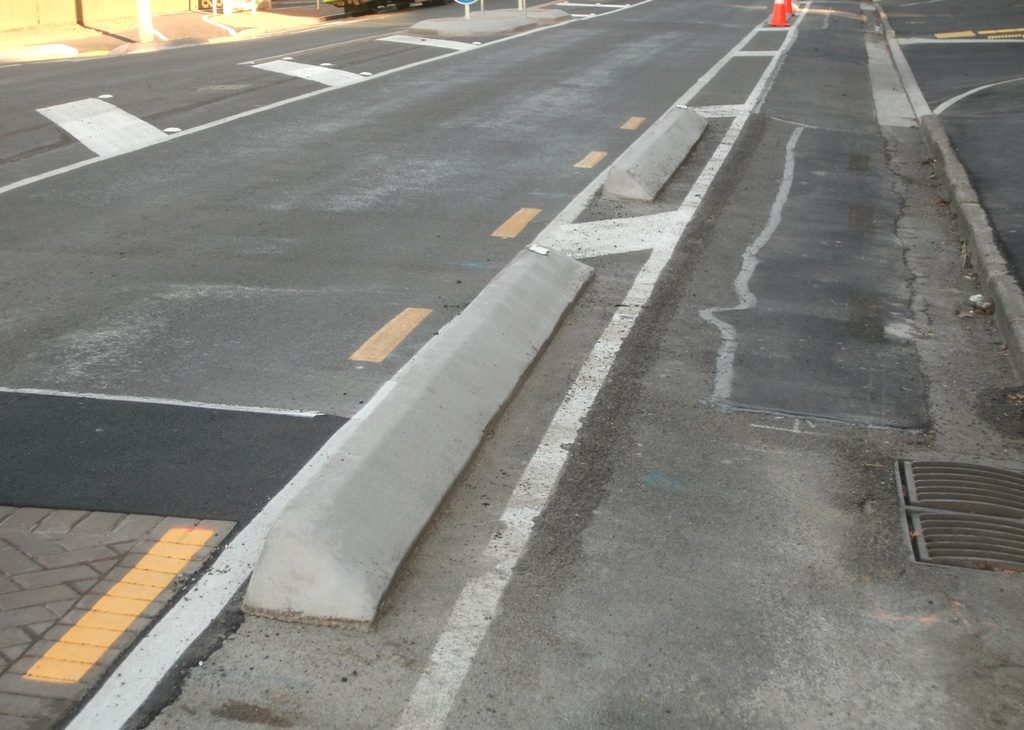 One of the frustrating aspects of this project has been the delay in getting the green colouring down. Yes, it always had green surfacing proposed for highlighting all the major crossings, transitions, and so on. I imagine that this would help to highlight those separator kerbs somewhat better too. In fact, I think that the overall finished product will look immensely better when it is installed.

There are various other issues to consider from this project:
For budget reasons, the project was largely constrained to sticking with the existing kerb lines. However, the key to providing suitable cycleway facilities on Ilam Rd was the removal of car parking from one side of the street. This is always a contentious issue, especially in areas with high parking demand, but on future projects the conversation will no doubt need to be broached about the relative priority of parking vs cycleways (especially on arterial routes).
The bus stops with their cycle bypasses behind have been an interesting feature (Fendalton Road also has similar facilities). In the main, I think they've worked well so far, with no major dramas between the various interacting road users.
The new 40km/h speed limit seems to be supported by some preliminary speed surveys, with mean speeds tracking comfortably around this limit, especially in the northern section. The relatively narrow traffic lanes are no doubt contributing to this outcome. Hopefully this will encourage greater use of lower speed environments as another tool in providing for cycling around Christchurch.
Interesting to see that many riders are using the new zebra crossing to help get across by University Drive – and motorists are stopping for them. Although technically not legal to cycle across such a crossing, perhaps this is a place to formally trial such an arrangement in NZ?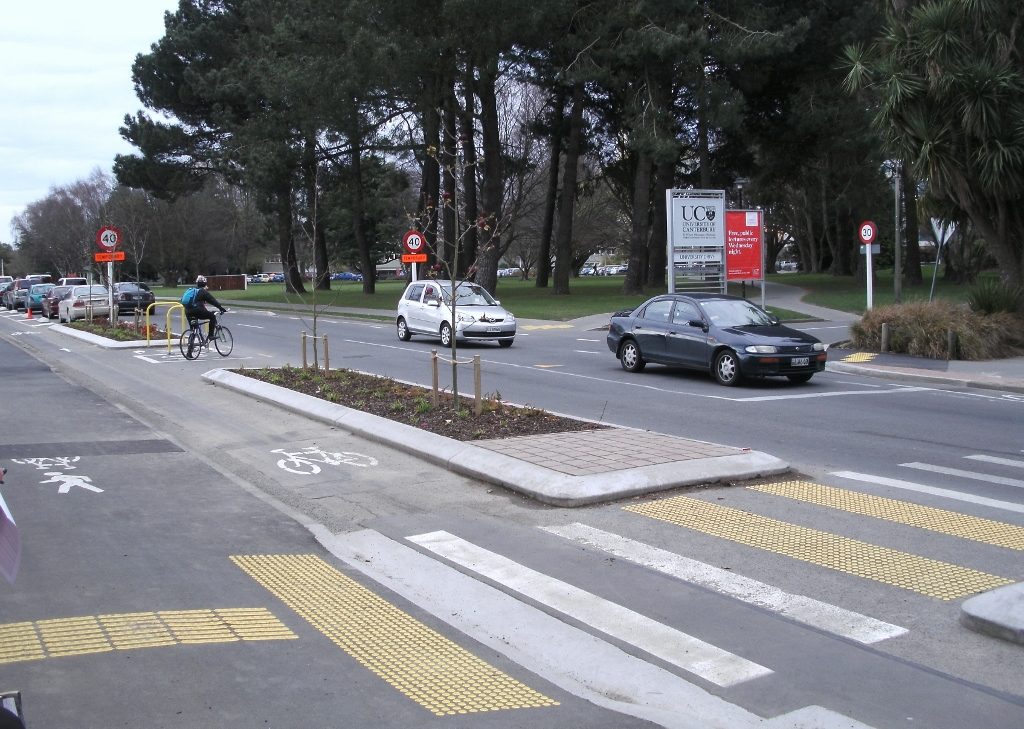 The shared path on the western side has only seen minimal usage by people cycling, but it at least provides another option for the less confident riders (especially kids on their way to the nearby schools).
The ongoing maintenance of these cycleways is another learning curve. The double kerbs make for a natural area for debris to congregate, and it's a bit trickier for conventional street sweepers to get in there. In the near future we might see some special narrow sweepers in the Council's maintenance fleet to deal with these.
All up, there is plenty to learn. Yet, despite these "niggles", my overall impression from talking to various people (particularly those who walk and cycle it) is that the project is generally a big improvement on what was available beforehand for active modes in this area.
What do you think about the Ilam Road cycleway? What works? What doesn't?