Another year has nearly passed us by; they certainly seem to go quicker as you get older too… We're already a fair bit into December but I thought I should remind you of a few coming events that might be of interest to you; as always, check out our Activities Calendar for the latest details.
Just in time for the festive season, today (Thu 10th) from 3pm the Aranui Bike Fixup will be wrapping up their year by having a Kids Bikes for Xmas session. Does someone you know need a bike from Santa? Come along and see what's on offer.
In what's becoming a bit of a regular tradition, this Sat 12th from 9.15am, you can join Frocks on Bikes Chch riding to New Brighton for the Seaside Christmas Parade! Decorate your bike in a festive mode and ride out to the beach to take part in the local parade (starts 10.30am).
The Christchurch Northern Corridor motorway is just about ready to open so, before they do that, this Sat 12th is your chance to come along and walk or ride the motorway (and the nice new pathway alongside too). Between 2-6pm you have the opportunity to ride the entire 10km route (the main event village will be between the Belfast and Radcliffe Rd overbridges).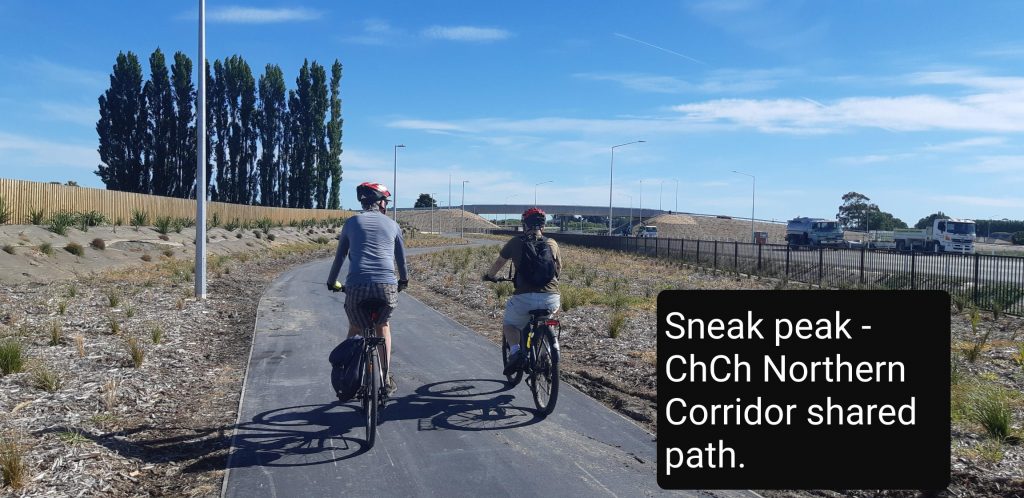 If you need your last fix of RAD Bikes workshop love this year, it will have to be this Sun 13th between 12-4pm at The Commons. In the New Year, RAD will be back in action from Sun 17th Jan…
Bike Bridge Chch have been doing great things lately providing bikes and lessons for refugees and migrants. On Sun 20th they will be celebrating the end of the year with a Christmas Progressive Dinner, starting at 4pm from 74 Domain Tce, Spreydon. If you've been involved in Bike Bridge come and join this wander around the neighbourhood for a dinner with a difference!
Finally, it might not be until February, but it's also time to start thinking about signing yourself and your colleagues to next year's Aotearoa Bike Challenge. Compete against other organisations throughout February to see which group can bike the most – you might even pick up a prize… And everyone who registers for the Challenge before Xmas Day could be in to win an e-bike!


I hope you all enjoy the festive season and get out an about on your bike a bit too; you probably don't need to remind me that, with the pre-Christmas traffic chaos, doing your present shopping and Xmas parties by bike is probably a lot less hassle…
What biking activities are you up to this month?