With all the drama lately about COVID-19 and social distancing, until fairly recently none of us were sure when we might be able to next undertake any mass cycling events again. But Team NZ has done its bit and the health gods have smiled on us -so the 9th annual Christchurch Winter Solstice Matariki Night Light Bike Ride is on!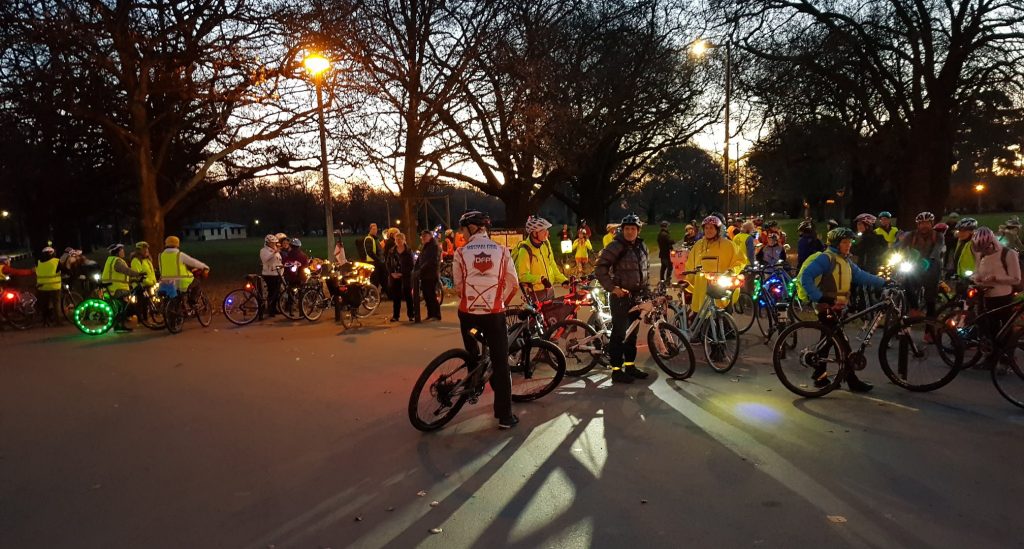 This year, the shortest day falls on Sunday 21st June – i.e. next weekend. This is the first time in five years that the ride has happened on a weekend – will that boost numbers? As is often the case, the weather is ultimately the key determinant in how many people show up and most years we've been very fortunate both in terms of temperatures and precipitation. It's still a week away but so far the forecast is looking a bit cool but generally dry for this year's event.
So, what should you do?
Tell all your friends and family about it! This is a family-friendly event on safe cycling routes, so kids are very much welcome. Last year, 371 people took part; can we break the 2017 all-time record of 452?


Can you top this?

Bling up your bike! Hunt down every bit of flashing, shining, glowing, blazing, noisy lighting gear, horns/bells and decorations that you have (or go shopping!) and festoon your bike and yourself accordingly (remember, it will be dark, so you will want good lighting anyway). There are prizes for the best looking bikes…

Meet inside North Hagley Park at the Armagh Street Mickle Gates from 5.00pm for a 5.30pm start. Please don't be late; we have a safety briefing before we go.

Ride in a leisurely manner around Hagley Park with a few hundred friends… There will be marshals along the way to guide you the right way and to make sure that no-one gets left behind.

Adjourn afterwards to the Pegasus Arms (Oxford Terrace Promenade) or other local eateries for a beer or hot chocolate and discuss how to help make Christchurch a world class safe cycling city – support your local businesses!
I look forward to seeing you all next Sunday!
Will you be joining the Solstice Ride this year?