We've had many guest posts over the years from different contributors; some one-hit wonders and other quite regular bloggers. One in the latter category is Robert Fleming, who has now graced this site with over 50 blog posts – my thanks for them all! Here is his very first contribution, originally published back in Jan 2013, setting the scene on his motivation for cycling. And that's a cue to remind all of you that I love to receive interesting contributions from anyone in the Chch Cycling world; even if you're not sure about the subject matter or content quality, send it through to me and I'll let you know (hint: my standards aren't high!):

I am a cyclist. To define more accurately, I am not a competitive cyclist, extreme cyclist or even much of a recreational cyclist nowadays. Just a cyclist. I cycle because it feels physically good, gets me happily from A to B and if that isn't enough and you need a more ethereal excuse, it gets me out in the great outdoors enjoying the wind and the weather, the view and an intimate experience of whatever environment happens to be passing by. Obviously I have a bike (2 actually) and without using this forum for marketing purposes by brand naming can tell you that it has 2 wheels, a comfortable seat, 3 gears, mudguards, a stand, a bell, and is painted black. I like it a lot. As a 5 year old beginner, mother pushed me from behind on our back lawn and I was on my own (no trainer wheels in those days) and I got to the boundary hedge and stopped by crashing.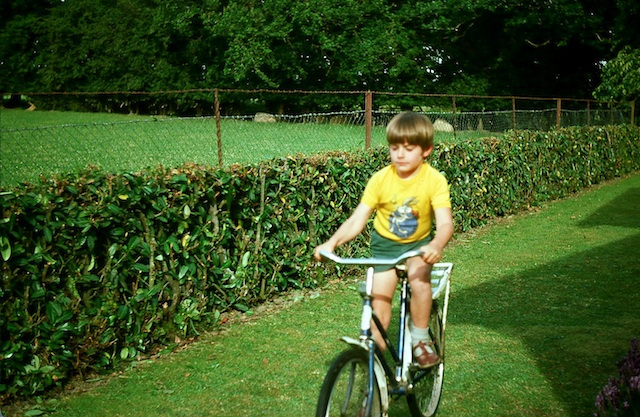 Since then cycling has been almost the most pleasurable and satisfying thing in my life to do and there have been 1000's of wonderful journeys and experiences. I have had countless numbers of trusty steads to ride on, each with their own traits and personalities, each enabling the journey, yet somehow sharing it as well.
So why this story?
Well, in post-quake Christchurch, the buzz phrase has been "getting back to appreciating the simple things that we enjoy and need the most" like sewerage systems, a water supply, a water-tight roof over our head, and to end the much longer list, reliable and simple transportation. To jump a few chapters of the story I have returned to becoming a regular cycle-commuter because of the earthquakes. Initially for logistical reasons but 14 months later it has become a natural part of the daily routine, albeit at a part-time job 3 to 4 days a week. Throughout the winter, rain, hail, snow or shine, 99% of my commuter journey from St Albans to New Brighton have been by bike. The benefits will be no doubt obvious to you fellow cyclists, so here is only a quick summary. Weight loss, better cholesterol profile, improved blood sugar control (I have Type II Diabetes), improved and more relaxed mood upon getting to work and on arriving home. Financial benefits … and the list goes on. Nothing you haven't heard before.
And where to from here? and so what? I hear you say. Well firstly I am incredibly enthusiastic about the call to make Christchurch the cycling capital of the Western World and support anything that can be done to make it happen as soon as possible. My battle cry for now is that the more souls we have pedalling the metal this summer, the more chance there will be of the transport infrastructure decisions that are being made very soon biased in favour of a cycling city. And that has got to good for everyone, even if some can't quite see that yet. It is our job to show them, for the sake of healthy children, for the sake of ballooning health budgets, for the sake of physical and mental well-being, and if I am allowed one further cheesy cliche, the future of the planet.
And what about the little things? Well each day, on my journey of 11.4km to New Brighton I choose to ride the slightly longer route by travelling along the QE II drive shared cycle and footpath, purely for the enjoyment of having a vehicle free route for around half of it. During the winter months I have negotiated the Marshlands Road / QE II Drive intersection, watching it being transformed from a congested round-about into a contemporary traffic-light controlled short-term car-park. What an improvement for motorists, cyclists and pedestrians alike. The transition was fraught with temporary routes and lane changes that posed quite a danger to all, a great and scary story for another post. Today though, you can share the joy that I felt when first riding over the newly repaired gouges in the pathway made back in April to trench the underground cabling as the lighting was shifted to make way for the west bound turning lane. There were only 4 of these gouges, and only about 20cm wide, but they were of the bone-shaking, rim crunching variety and even in pot-holed ridden Christchurch, stood out as an irritating pain.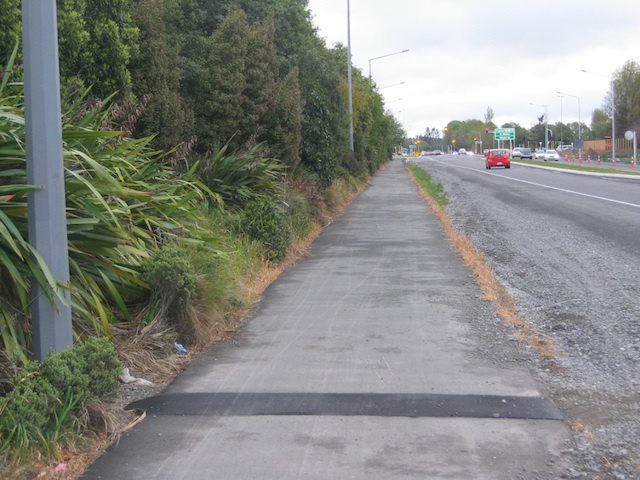 I marvel at how the simplest of repairs can make such a difference and ask you to join with me in shouting rather loudly "bring on the repair/rebuild to our wonderful city".
What's YOUR motivation for cycling?