The end of the year is fast approaching; fortunately that also tends to coincide with better weather for biking too. So let's see what's coming up this month:
Revolve Christchurch are a group dedicated to encouraging more women to bike by organising various women-only road rides. Revolve have two events planned in the next week, a beginner's ride from Cashmere to Tai Tapu on the evening of Wed 4th Dec and a longer ride around the "Short Bays" circuit (Cashmere-Lyttelton-Sumner) on the morning of Sat 7th Dec.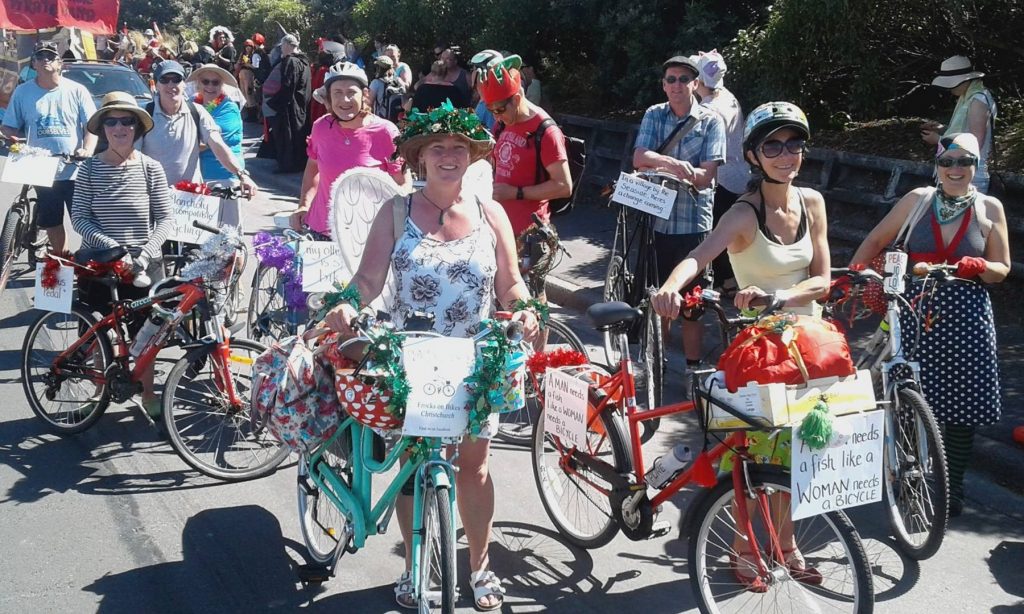 Fancy riding to see the New Brighton Xmas Parade? Fancy being part of the Parade? Frocks on Bikes Chch gives you the opportunity to do both on Sat 14th Dec, with a cruisy ride from Avonside to New Brighton (leaving at 9.15am). Then if you're keen bling up your bike and join the Parade from 10.15am!
For those who need a bit of confidence boost with their cycling skills, Go Cycle Chch continues to offer some friendly small-group skills sessions around the city. This month sees cycle skills sessions in Phillipstown (Sun 15th Dec), Redwood (Fri 20th Dec) and St Albans (Sat 21st Dec). Contact Connie to book your free spot.
The final Coffee Outside for the year see the bike gang meeting up by the Kate Sheppard national women's suffrage memorial on Oxford Tce on Fri 20th Dec. Come along any time from 6.45am with your bike and your favourite brew for a bit of morning socialising…
As always, the coming events and links to more details can be found on our Activities/Events page (which also pops up on the righthand side of our webpages). And if you have biking events you would like to let the world know about, just drop us a line…