Guest blogger Robert confesses about his 'other life'…:
It began innocently enough.
The controversy of St Asaph Street cycleway. A little bit of anger perhaps that so many 'experts' in the comments section of The Press or on Facebook  would, with each inhaled breath, deride those who rode a bike for every sin under the sun, then go on to exhale with bluster that cycleways were a complete waste of ratepayers money because nobody used them.
An idea. Inspired by a Facebook post from the one and only Catarina Maria showing wet day numbers of those biking along St Asaph Street from her dry and snugly cafe location, followed by an invitation to join the Action Bicycle Club/Generation Zero  'Go By Bike' Breakfast  on June 7th 2017. I turned up duly at 7.00am (5 degree temp) with clipboard in hand  and counted those riding to work along St Asaph Street and through the Madras Street / St Asaph intersection for an hour and a half.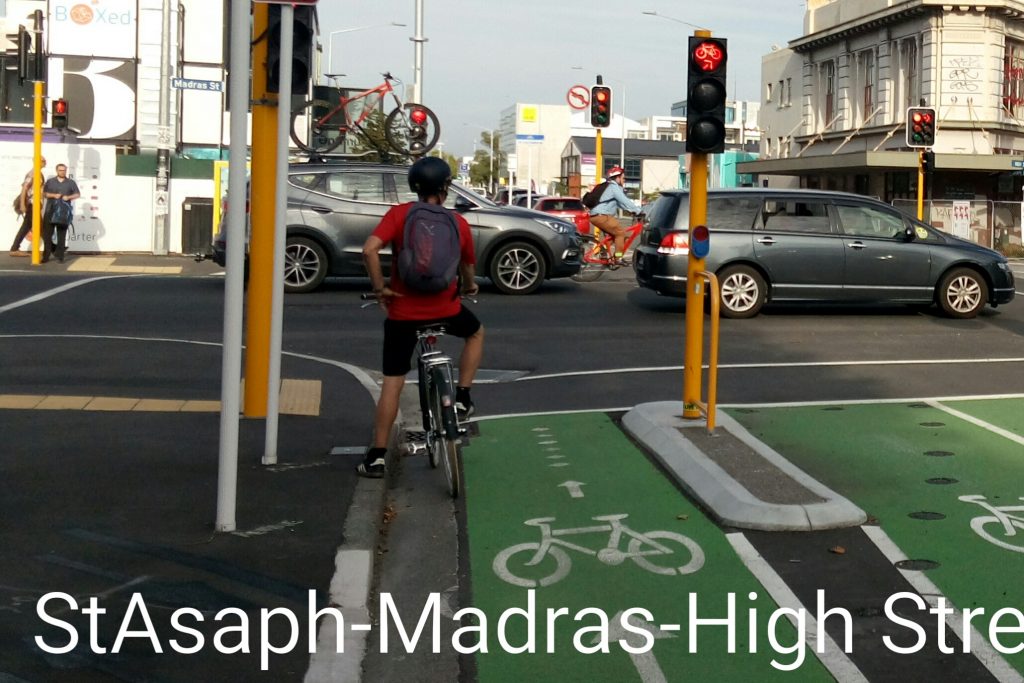 The 267 total seemed impressive. However I wondered just how many turned up for the coffee and food as part of their normal commute and how many  were part of the 'rent a crowd' from social media. Was this an event, or daily routine.  One way to find out…
Next morning from 7.10am until 9.10am I was sitting on a cold stone seat just south of the Antigua Boatshed Bridge counting anyone who rode a bike over the bridge in either direction, and anyone crossing through the Antigua Street/Oxford Terrace intersection (now partly blocked off). This time 635. For that surprising result, the price was a sore neck from continual moving of the head through an arc of 180 degrees, tired eyes from the peering and an ice-cold bum. But hey, how impressive was this. The seed was sown.
Given that this method of counting is unofficial, and runs the risk of inaccuracy and bias, of how much use can it really be though?
Well, it is useful to me. Regardless of the accuracy, when someone says to me that people do not ride bikes in Christchurch I can honestly tell them that they do, show some figures and tell the story. There are those who will remain permanently unconvinced (that is OK) but some genuinely want to know more. I see this as progress. Show people the evidence in an amicable manner and let them make their own judgements. Even the unconvinced have to bend just a little when I tell them Christchurch Hospital has 1200 bike parks and suggest they go try and find an empty one on a fine week day. Being a bit of a statistic-phobe I find raw crude data quite powerful, despite the obvious limitations.
The other reason I do this (when time permits) is because I find it enjoyable. Most counts are done during early morning commuter time (from 6.30am or 7.00am for 2 hours). Knowing how many people ride bikes into the city is important information for traffic planning, car and bike parking requirements and just how effective bikes can be at reducing peak time congestion. I enjoy experiencing the dawn of another day in Christchurch. I am interested in watching all forms of transportation modes and always wonder who is going where and for what purpose.
So far, reasonably regular two-monthly counts have been undertaken in 3 locations:
Edgeware Village (Colombo/Edgeware Intersection – Papanui Parallel)
Lincoln Road (at the Little River Link Cycleway crossing )
Antigua Street/Oxford Terrace Intersection and Antigua Boatshed Bridge (hospital area)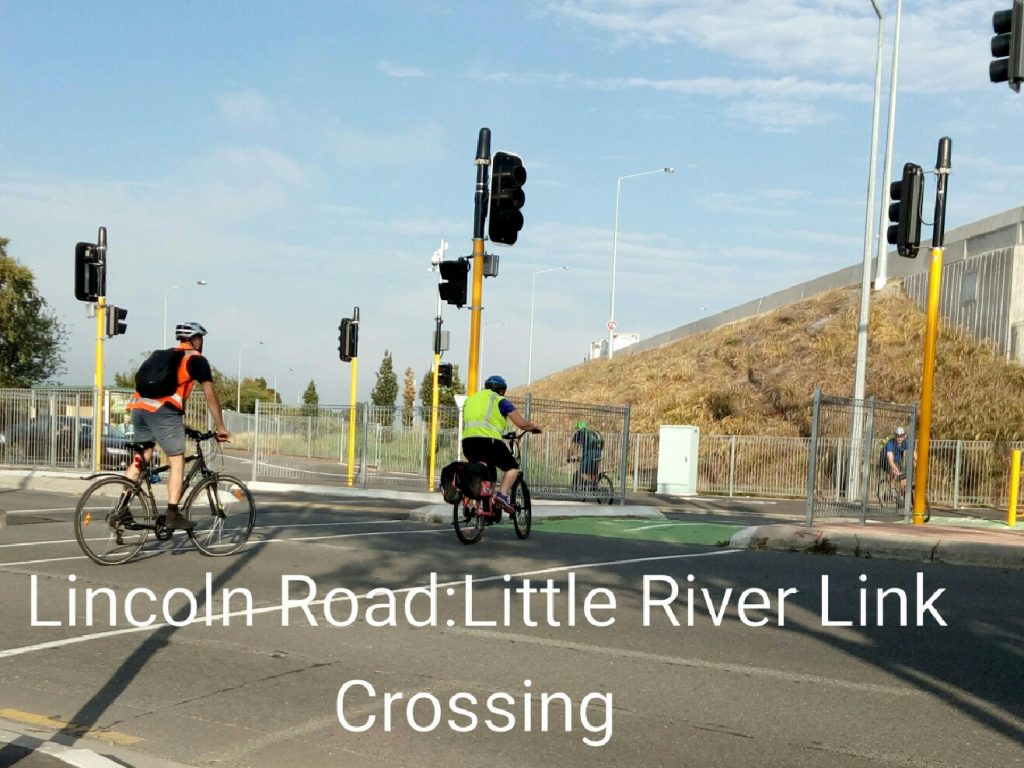 As expected, as the weather has improved, all counts have shown increases over time.
Lincoln Road is my favourite spot despite the uncomfortable fence to sit on. The flow is manageable and consistent and visibility good. There is such a variety of people. There are the Little River Link 'newbies', heading NW to the employment areas of Middleton and Wigram from the southern suburbs, to get to work at 7.30am.Then there are the fast and furious along Lincoln Road heading to the CBD for a later start. These guys have been cycle commuting for years, as evidenced in the quality gear and faster bikes.
I have undertaken one afternoon commute count. This was at Edgeware Village in December 2017.  Morning commutes are easy counting,  everyone is going somewhere with a mission. At the end of the day, there's errands to do and shopping stops to make. Bikes would appear from all directions and park-up somewhere unusual. It was harder to keep track of what was counted and what wasn't. And yes, people came out of the supermarket with bags full of groceries, jumped on a bike and went home for dinner.
Does it matter that I count bikes not using the Major Cycleways ?  Not to me.
I make it very clear exactly what route/intersection/direction is being counted and will indicate the numbers using the cycleway at any point. Riders not using the cycleway concerned (e.g. Lincoln Road) are itemised separately.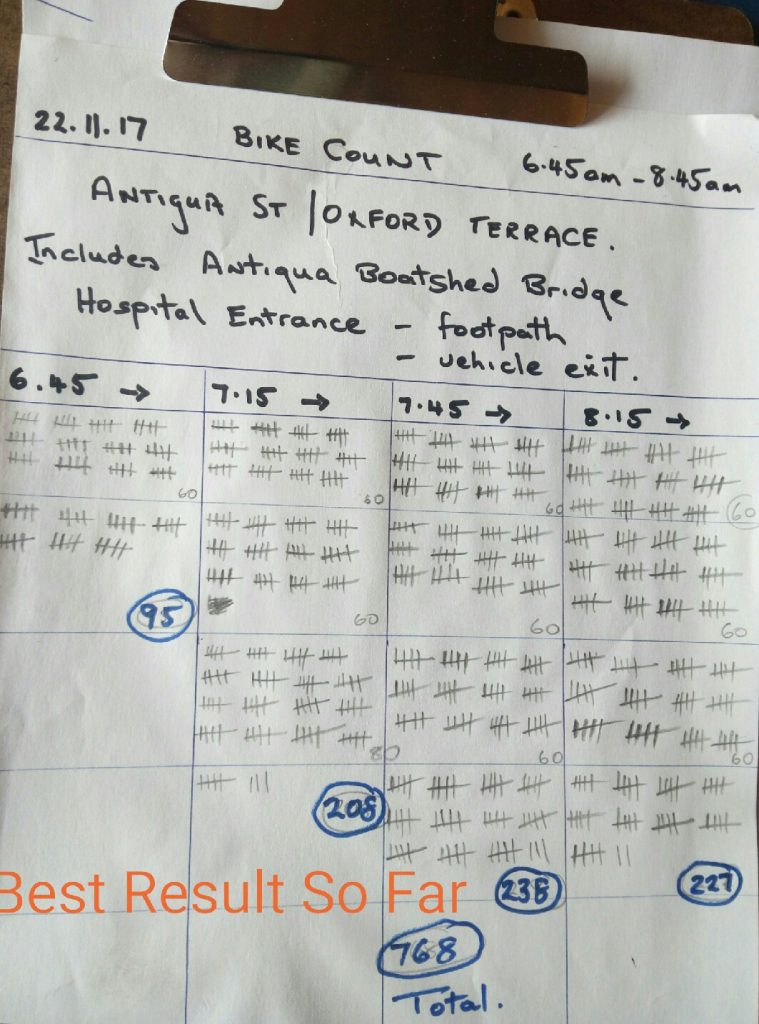 There are some other rules:
Times are strictly kept. It is tempting to add that big group that rolled through after cut-off, but this serves no purpose.
In places (such as Edgeware Village) where someone rode up, parked and went to the supermarket (for instance)  and returned the same way 50% were counted as two journeys, 50% as one. If it were a vehicle, two separate journeys would be recorded. I am just being conservative.
Not included are Small Scooters or Skateboarders (motorised or otherwise)
Included are Mobility Scooters, E-Bikes, Bikes being wheeled on the pavement, Adult Tricycles.
Cold weather counts are just as useful as fine weather ones; however, I do not purposely go out in the rain. The detractors can have their time in the sun on this, I don't care.
Some more counts will be done in February.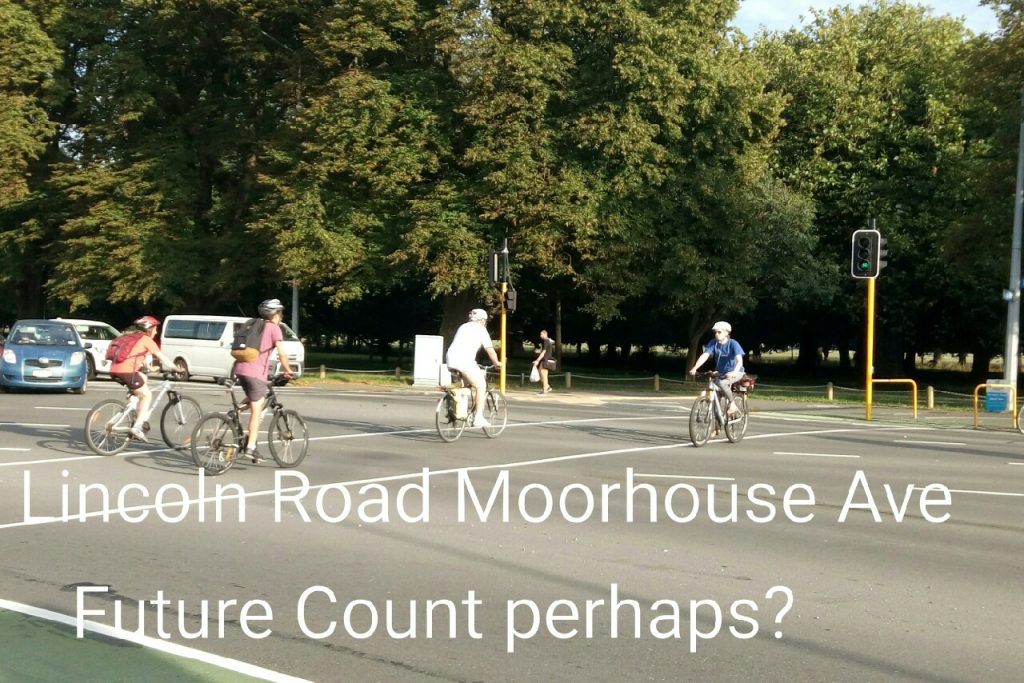 There may be other locations added. Worcester Street at Fitzgerald Avenue crossing (Rapanui cycleway) comes to mind. At this point  I have deliberately avoided the Uni-Cycle and Hagley Park cycle paths. Everyone knows people bike there;  some would even say that is the only place where people going places on a bike should be riding…
Where else could Robert do a count?