The weather continues to fool us in wondering whether the worst of winter is over or still yet to come. Either way, it's always a good time to get on your bike, look at bikes, or at least talk about bikes! A few organised activities this month (listed below), but there's nothing to stop you getting out and exploring your local neighbourhoods in your own time – you might find some useful advice on that in our suburban cycling guide.
Here is a rundown of activities coming up (all free unless stated, and anyone is welcome to attend):
If you missed last week's world premiere of the film "Le Ride", there's not one but two extra Christchurch screenings coming up on Mon 8th Aug and Mon 15th Aug, 8.30-10.00pm in the Isaac Theatre Royal. This is the amazing story of how Amazing Race supremo Phil Keoghan gets on a 1928 bike to ride the Tour de France as experienced by Kiwi cycling pioneer Harry Watson. Tickets are selling fast, so book your tickets (cost $11.50 upwards) before it's too late!

The RAD Bikes team continue to offer their bike build/repair workshops every Wednesday evening and Sunday afternoon. And it's nearly time for their monthly Wheel Womyn Wednesday workshop on Wed 10th Aug from 6pm at The Commons (cnr Durham/Kilmore). If you've always wanted to know a bit more about how your bike works and how to look after it, then this is the opportunity for you to ask all those silly questions you've been wanting to know. This month's topic: how to fix a puncture!

Learning a thing or two at the last Wheel Womyn Wednesday workshop

On a cold winter's night, it's a nice idea to keep warm at one of our local drinking establishments. So why not do it with bike-minded friends, new and old? The 4th Bikes Beer and Banter event is coming up on Thu 11th Aug from 6pm at the Belgian Beer Cafe Torenhof (20 Durham St, Sydenham). Bring your bike and your friends (or make some new ones!), and join up with others to chat about new cycleways, new bikes, new road rules, whatever…

What happens when you combine a love of bikes with a few drinks…

On the weekend of Aug 13-14 there is a GoGreen Expo on at Wigram Airforce Museum, highlighting a variety of healthy and environmentally responsible businesses around NZ. For those interested in going to visit the Expo by bike, and to check out the newly opened Wigram-Magdala overbridge, a GoGreen Expo guided bike ride on Sat 13th Aug will take participants from town to the venue via a combination of pathways and quiet streets. Meet at the Armagh St bridge by 9.30am; the ride should take about an hour at a leisurely pace, stopping on the way to point out interesting cycleway features. The Expo costs $5 entry but we've got a number of free tickets for ride participants.

Does your bike need a bit of TLC? Do you need a refurbished bike? Do you have some old bikes or bike bits to spare? ICEcycles have another public bike workshop coming up on Sat 20th Aug from 1-4pm at Linwood Community Corner (378 Linwood Ave).

A bit of bike TLC at the last ICEcycles workshop

There's more cycling cinematic activity to be had this month, thanks to the ever-popular Cycle Powered Cinema, returning on Sat 20th Aug from 4pm at Space Academy (371 St Asaph St). Enjoy a selection of cycling-themed short films, powered by your own pedalling!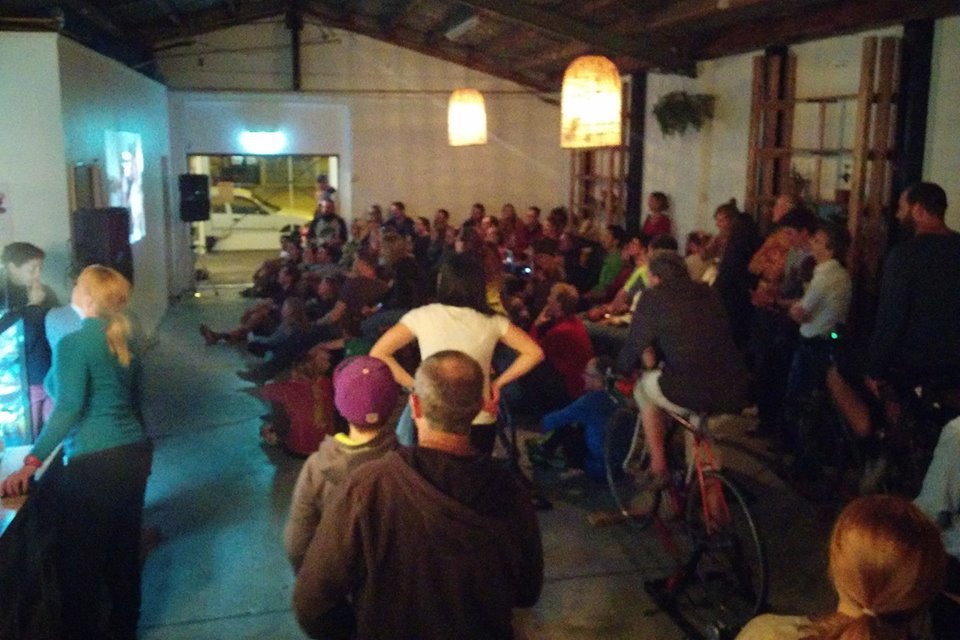 Remember to keep an eye on any updated activity details on our Events Calendar; please also let us know if you have something that you would like to submit for the calendar.