It's now only a week away until the results of the local body elections are tallied up. Due to various resignations, some major changes at the Council table in Christchurch are guaranteed and, given the drama of the past three years, a few more sitting elected members may find they are out as well.
If you haven't already had your say, you have until 12pm next Saturday (12th) to hand in your voting papers to the dropboxes at the City Council (or post them by Wednesday 9th). Voting rates never seem to be flash for local body elections, despite the influence that Councils have on so much of your daily lives. My view is that if you haven't voted (even if it's for an unsuccessful candidate) then you don't really have much right to complain for the next three years.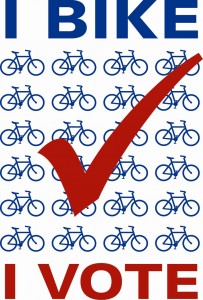 So how might cycling fare under the newly elected members? If you're still trying to make up your mind, there are a few useful sources around that could help your deliberations:
The keen young things at Generation Zero have been doing a stirling job in the main centres quizzing all candidates on their thoughts about sustainability issues such as cycling, climate change, green buildings, etc, and then assigning a "thumbs up/down" rating to each of these. Here's the link to the Christchurch results (mayoralty and Councillors); click on the candidate to get more specifics of their actual response to the questions.

Local community initiative Gap Filler has also undertaken a survey of local candidates, focusing particularly on public participation and community engagement. While not specifically looking at cycling as an issue, it is another way to get a feel for how your prospective elected members might deal with the general public if voted in.

Or you could just ask them directly! Most candidates provide contact details so that you could phone, email or (heaven forbid) have a face-to-face chat with them. I'm sure they'll be interested to hear the thoughts of their potential future constituents.
So do your homework, and then make sure you have your say!