We've talked a bit about the new separated cycleway along Ilam Rd. But the granddaddy of them all in Christchurch is a cycleway down in Beckenham, constructed over a decade ago.
Tennyson St, a suburban Collector road carrying about 9000 vehicles/day, was due for reconstruction around 2002. The route also featured a reasonable number of people cycling (over 200 a day), so the transport planners at the City Council thought that they'd try something a little different.
Up to that point, Christchurch had largely relied on off-road pathways through parks and ordinary painted cycle lanes on-road to provide for cycling. So what if the cycleway was taken behind the kerb line? And still separate from the footpath as well.

This was duly done and the new cycleway was released onto the public amidst quite a bit of publicity to help explain what it was all about. (hmm, where was that publicity with the Ilam Road cycleway?)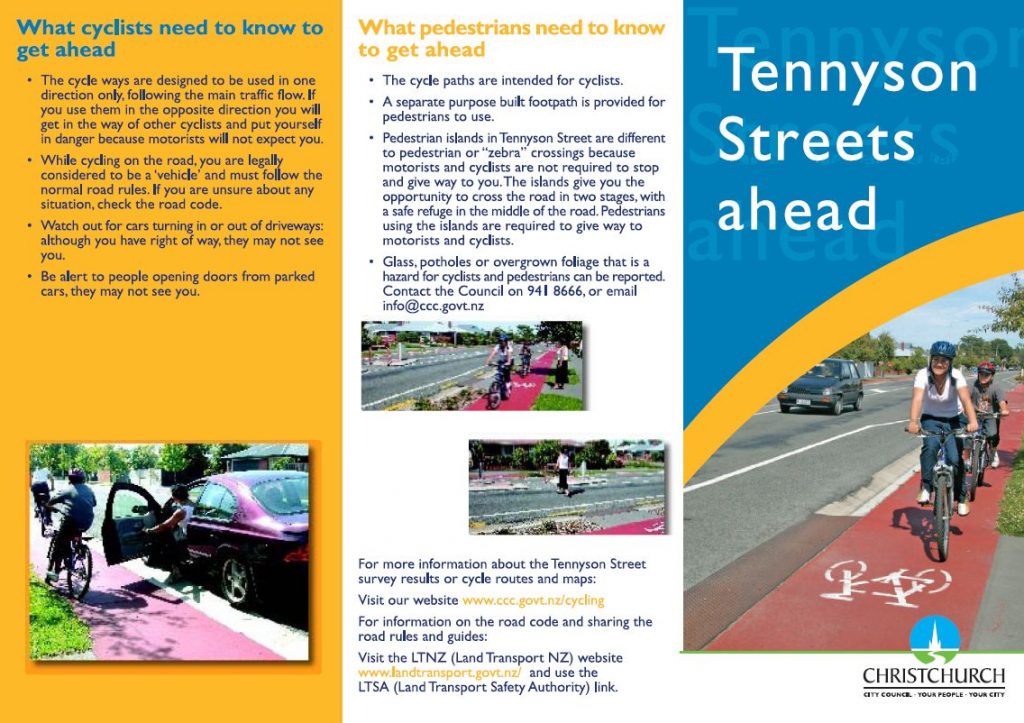 Initially the pathway was just unpainted asphalt but, to enhance awareness of it across the driveways (of which there are a lot), red coloured surfacing and copious cycle symbols were added. Later, directional arrows were also added to make it clear to everyone that these were meant to one-way cycleways on each side of the road.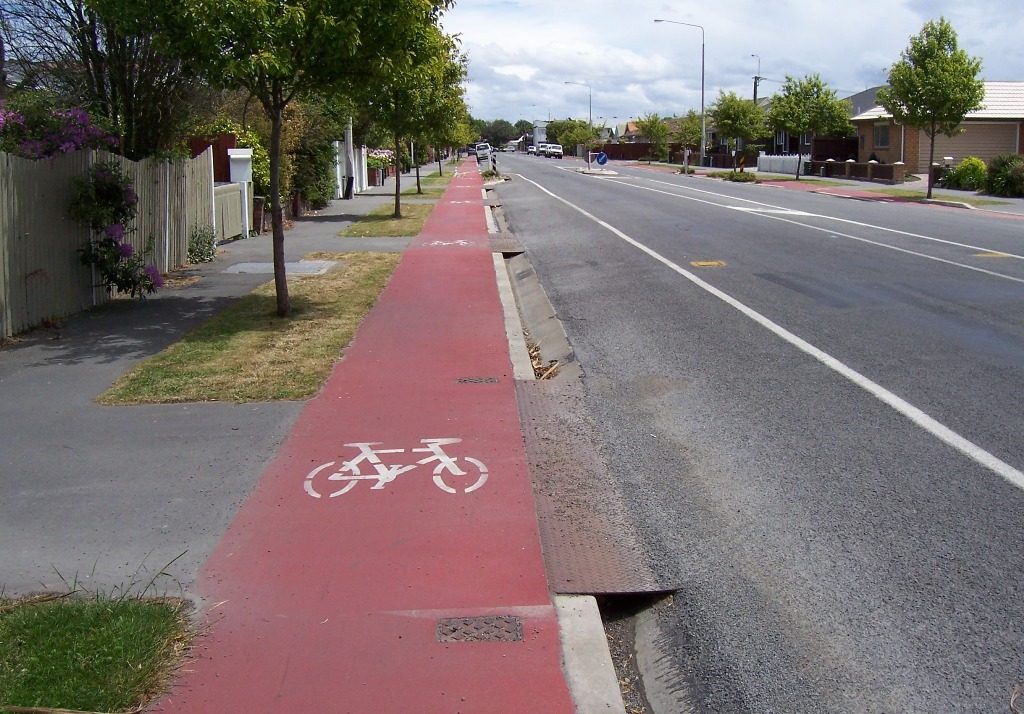 It's here that a couple of clever things were installed as part of the design:
For anyone who has experienced a conventional off-road cycleway next to the kerb, an annoying feature is how the path goes up and down over every driveway crossing (Halswell Junction Rd anyone?). To get around this here, a special "mountain kerb" design is used, which has a much steeper drain and allows the road surface to already be at the same height as the berm.
Under current NZ road rules, any user of a pathway alongside a road has to give way to traffic turning in and out of side-roads (unlike most overseas countries). But if you were cycling on the road, you would have right of way. Therefore, approaching each side-road along Tennyson St, the designers have taken the cycleway and seamlessly shifted it to the other side of the kerb. Voila! It's now a cycle lane with full rights of way. Once past the side-road it reverts to being an off-road cycleway again.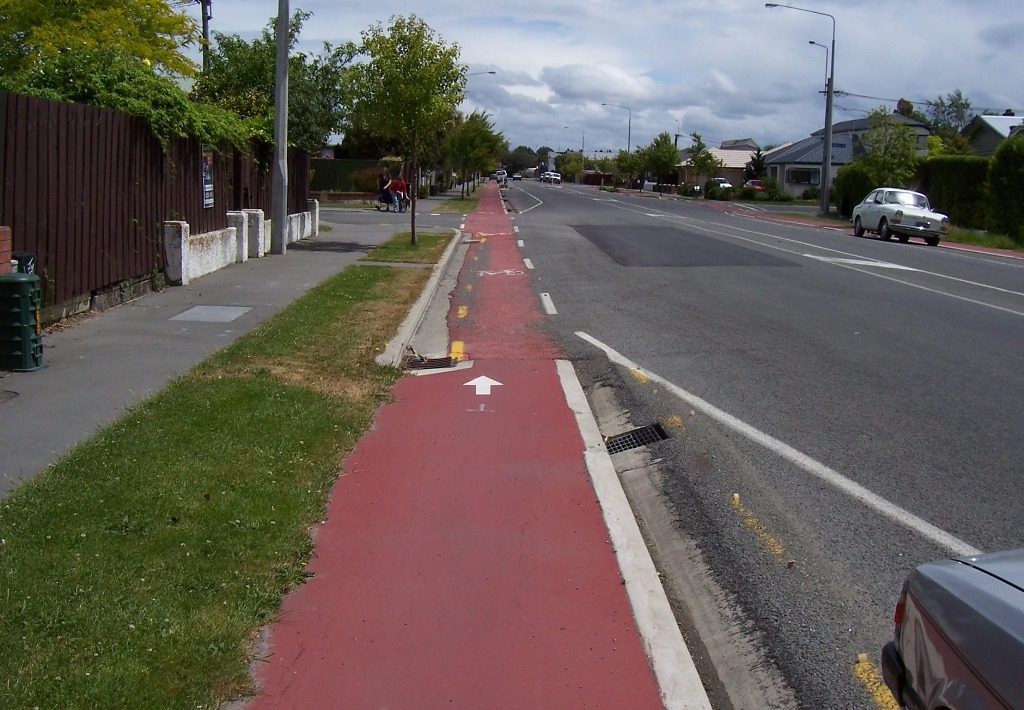 Being a new type of facility, considerable market research was undertaken about people's understanding and perceptions of Tennyson St. Residents and all types of road users were surveyed to see what they thought, as well as observational surveys of the street in action. The majority of residents felt quite safe walking along Tennyson St after installation, and considered the new road safer for cycling. Meanwhile 92% of cyclists surveyed felt safe riding along the new Tennyson St layout. And 64% of motorists considered the reconfigured street safer than most Chch streets, and liked the separation of people cycling (esp. for younger riders). 84% of riders were observed using the off-road cycleways, with the balance still staying on-road. Overall the feedback was very supportive, with 74-96% of residents, motorists and cyclists wanting to see similar concepts developed in other Chch streets.
By 2008, the cycleway was attracting typically 400-500 people cycling per day during weekdays. A further review of the cycleway by ViaStrada found some polarisation of opinions by cyclists, partly because the narrow road width constrains the layout somewhat. Looking at the crash data over the past decade, there has been only one reported cycle crash (a rider going the wrong way along the cycleway was hit at a side-road and suffered minor injuries).
The cycleway is not perfect by any means; there are a number of things that could improve a similar future design:
The mountain kerbs are unusual in normal circumstances and potentially present a hazard in their own right if someone is unfortunate enough to ride off the cycleway and into one.
The lack of a grass berm next to the kerb means that there is no clear space for activities like getting in and out of parked cars and putting out rubbish bins without blocking the cycleway. A small (0.5m?) berm would also allow a normal kerb profile to be used by providing some space for the driveways to be brought up to the cycleway height.
The cycleways are a bit narrow if you want to ride side by side, or overtake someone. Some of the adjacent trees can also encroach on the path if they get a bit too bushy.
Although the transition from pathway to cycle lane at the side-roads is exceptionally well done, the transition back to pathway is not so great, relying on a conventional kerb ramp. It would be nice to see a smooth transition on both sides.
There are a lot of driveways along here; increasing the chances of conflicts with motor vehicles. The pathway markings help raise awareness, but the relative proximity of the cycleway to the fencelines mean that approach sight distance is not great for seeing what's coming.
These are mostly minor niggles that could be addressed if someone was trying this design at some other location. Despite these concerns, the Tennyson St cycleway has proven to be a very useful addition to our cycling network.
Have you ridden along the Tennyson St cycleway? What do you think of it?