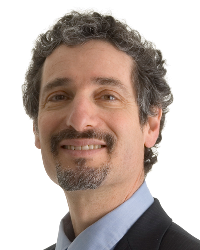 Some exciting news – internationally renowned researcher and advocate for sustainable transport Todd Litman is visiting New Zealand next month. And he will be presenting a series of seminars in Christchurch on Monday May 13th, thanks to Healthy Christchurch, the Canterbury Active Transport Forum, and other local groups.
I've been fortunate to know Todd personally since 2006, when he came to New Zealand for the first NZ Walking Conference. And he's been gracious enough to host me a couple of times when I've visited him in his hometown of Victoria, British Columbia, Canada, where he runs the Victoria Transport Policy Institute (or as I like to call it: "Todd's attic" – hope I haven't given away a trade secret there, Todd!).
The VTPI is well known for the wealth of information that Todd has collated on all manner of sustainable transport issues, including walking, cycling, public transport ("transit"), parking, travel demand management, and so on. Todd is particularly shrewd in getting to the issue that often matters most to many sceptics – the economics of sustainable transport options. Over the years he has been able to demonstrate that, in fact, introducing policies that encourage more sustainable forms of transport improve everyone's bottom line.
Todd will be delivering three different sessions on the 13th for different audiences:
First thing in the morning (7.00-8.30am), there will be a "Breakfast of Champions", where Todd will focus on the economic benefits to land/business owners of various transportation options within the 4 avenues. This event will target many of the key decision-makers of the Christchurch rebuild.

The bulk of the day (10.00am-5.00pm) will involve an Active Design Symposium, where Todd will lead a panel of local speakers to provide examples to transport practitioners of how active and universal design concepts have worked in NZ and overseas. The day will also include a suburban field trip to provide an opportunity for attendees to apply these concepts to a real-world situation, followed by discussion on how to take the ideas discussed and implement them in the new Chch Strategic Transport Plan.

At lunchtime (12.30-1.30pm), Todd will be the keynote speaker for the next Regional Active Transport Forum, where he will present a concentrated summary of the key points being delivered in the full-day Symposium.
All three events will be held at The Atrium, by the Hagley Park netball courts. Attendance at any of these events is free, although the Breakfast event will largely be by invitation only. If you are working in the transport sector, or are related in some way to the Chch rebuild efforts, then the Active Design Symposium is likely to be well worth a day out of the office. And for everyone else limited by time, at least get along to the Active Transport Forum at lunchtime.
More details about all three events (including flyers) can be found on the Canterbury Active Trpt Forum website. Hurry – you need to RSVP by this Tuesday 30th.