A nice article in last Thursday's Mainland Press (on the cover no less), highlighting the usefulness of cargo bikes of varying styles around Christchurch.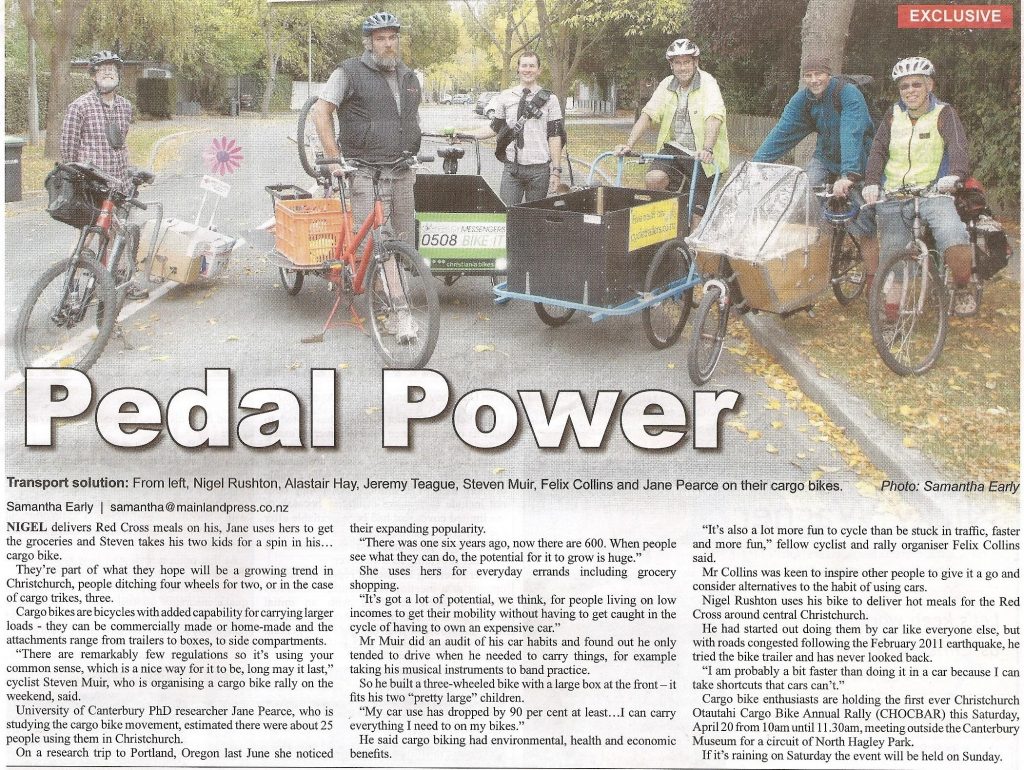 I remember reading an article a couple of years ago where local property tycoon Antony Gough, in decrying car-parking restrictions in the city, said "I've never seen anyone carry home a fridge on a bicycle yet". Now I've never seen many people take home fridges in their cars either (isn't that what delivery trucks are for?), but I suspect that many of the modern-day cargo bikes would definitely give that fridge a fair crack. And they're certainly suited to many smaller items that we might like to transport, such as groceries, boxes and even other people.
The group pictured features a number of pioneers for cargo bikes in this city:
Cycling in Chch's own Steven Muir has been promoting the use of cycle trailers and other cargo accessories for a number of years now; his website also provides advice on how to make them yourself.
UC PhD geography student Jane Pearce is investigating the role that cargo bikes can play to substitute traditional car-based trips in New Zealand. As well as local interviews of existing/prospective users, she has also investigated how they have been adopted in other places, such as Portland, Oregon.
Local courier Jeremy Teague uses a cargo bike for deliveries around town as part of his Energy Messengers courier service.
The article also refers to the CHOCBAR cargo bike ride that was meant to be held today (and featured earlier on this blog). Unfortunately the continuing bad weather has postponed things now to Sat 11th May.
It's slowly happening, but more and more people in Chch are appreciating the carrying power of properly designed cargo bikes and trailers.
Have you been tempted to get yourself a cargo bike?