I'm really looking forward to the summer solstice ride around Hagley Park this Friday. For one thing, this time I'll be able to see where I'm going; I couldn't see a thing on the Winter Solstice ride! So many bikes, so many lights … and so dark! Meerkats like a good line of vision.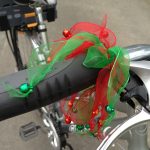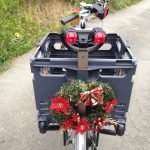 I've been pimping Keith for Saturnalia (aka Christmas) recently with Bits and Bobs from round the place.
After reading Lenny Boy's gift ideas for the cycle nut in your life (c'est moi, malheureusement), I was thrilled to find a source for those fantastic lights that go Roundy Roundy with the wheels. Since Saturnalia is about "gifts" (source: quote from male 17 year-old meerkat offspring), I decided to order a MonkeyLectric light for myself. The Instructions look Meerkat-friendly, so I'll pop them on later on in the week.
Naturally Keith's basket will get a Little Makeover, as will my cycling helmet (that Soft Brush With the Law got my dander up a little … but more about that later). I'm really chuffed I found the jingle bells; they sound just like Santa's. And since Keith's basket is so Capacious, I may even be able to take our little Saturnalia tree. See you there Friday 21st, 6.15pm, Armagh entrance to Hagley Park. Tell all your Pals, and remember to Pimp Your Ride!