8/04/2020 Stuff National:
"Data of weekly traffic flows in Auckland, Wellington, Christchurch, Hamilton and Dunedin shows that, compared to the previous year, traffic is down between 74 and 82 per cent."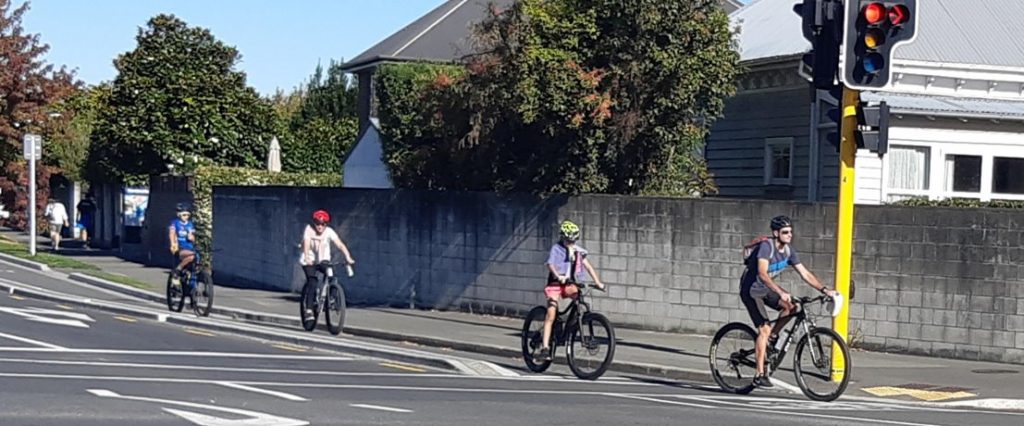 10/04/2020, Smartview Christchurch:
Rutland Reserve Cycle Counter – A daily recorded increase in cycle movements since March 25th of up to 50%. Anecdotal pedestrian counts have also increased.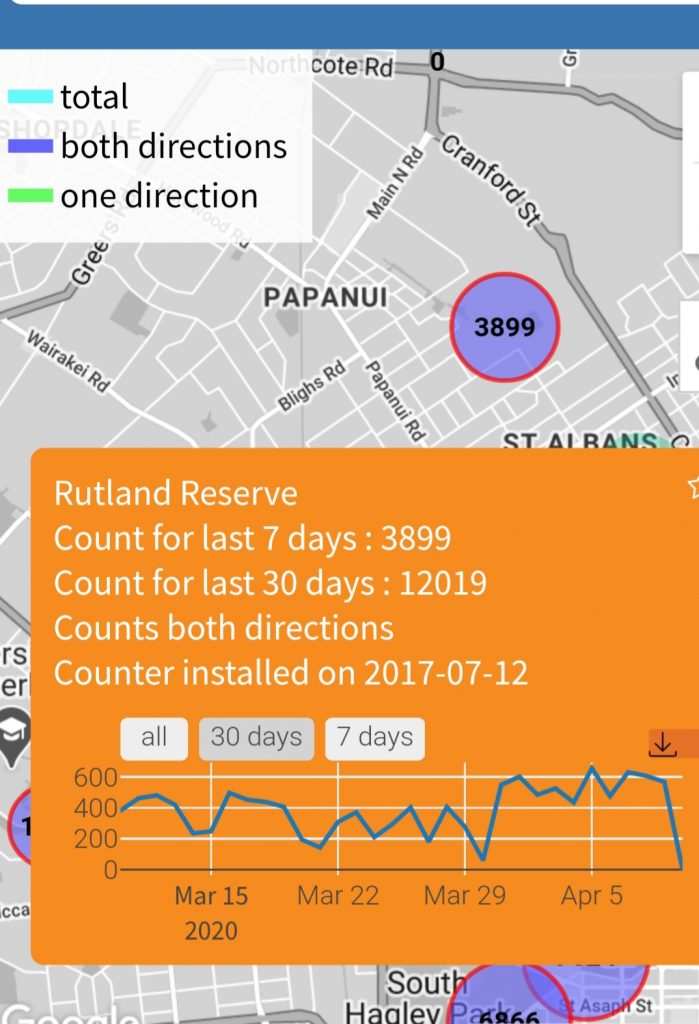 Most streets in Christchurch have become quiet and peaceful havens without the usual fear of traffic and noise. In parks and reserves, particularly those with good walking and cycling paths, the sound of people is suddenly more evident. People are in bubbles exercising and enjoying family time together.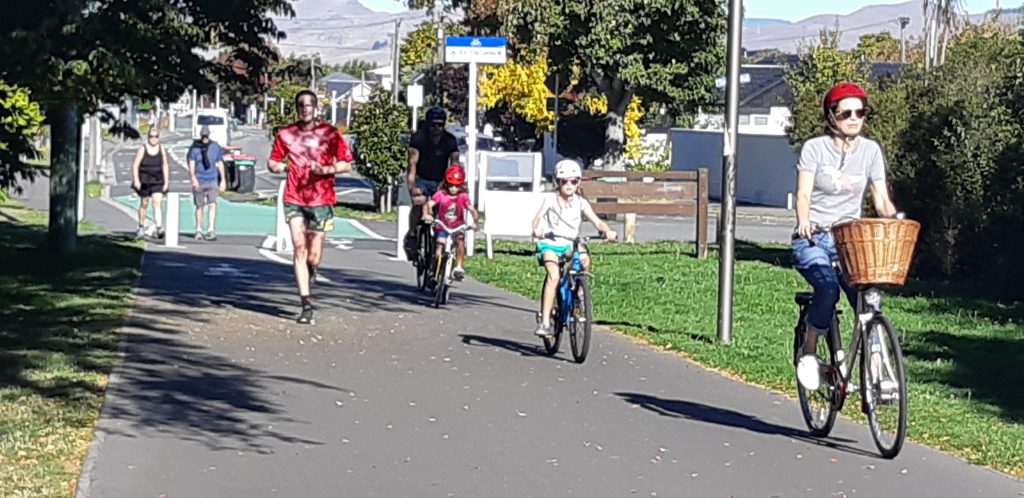 Even once-busy streets may now have people out on them kicking around, such as at the same time each evening on McFaddens Road a socially distanced group of neighbours play tennis. Further along, a large family group are holding an exercise class on the front lawn. Small children are having supervised lessons on how to ride a bike or scooter  on the paths and pavements; streets even.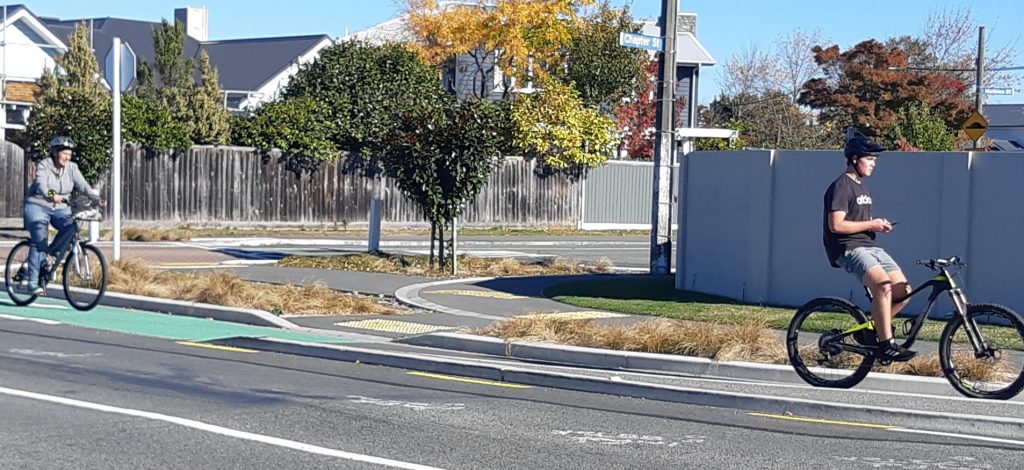 The Rutland Street cycleway (Papanui Parallel) is a good example of this, both on Rutland Street itself and in the Rutland Reserve.
By comparison, the Colombo Street cycle counter near Bealey Avenue (south end of the Papanui Parallel Cycleway) has experienced a significant drop in usage as central city workers who would normally cycle to work get to work from home (daily numbers reduced by half)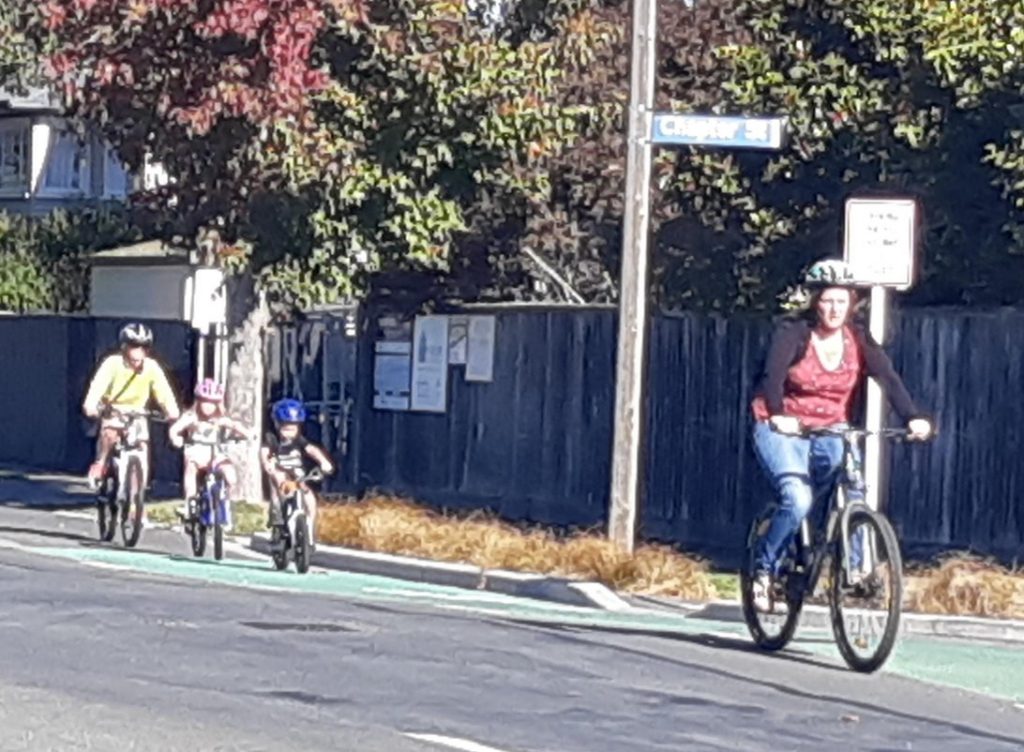 The Smartview cycle counts indicate that there has been an approximate one third reduction of total daily journeys recorded in the city (15,000 down to 10,000) The biggest reductions appear to be at counters situated  on the busier arterial routes leading to the CBD (eg Lincoln Road, Papanui Road). Some quieter streets on a cycleway (eg Linwood Ave Shared path) have remained static, while others (Sparks Road) have experienced a significant increase.  The two indicator counter locations for recreational cyclists on Cashmere Road and Main Road at Ferrymead have recorded large numbers on many weekdays as well as the weekend, particularly on the magnificent fine weather days of late.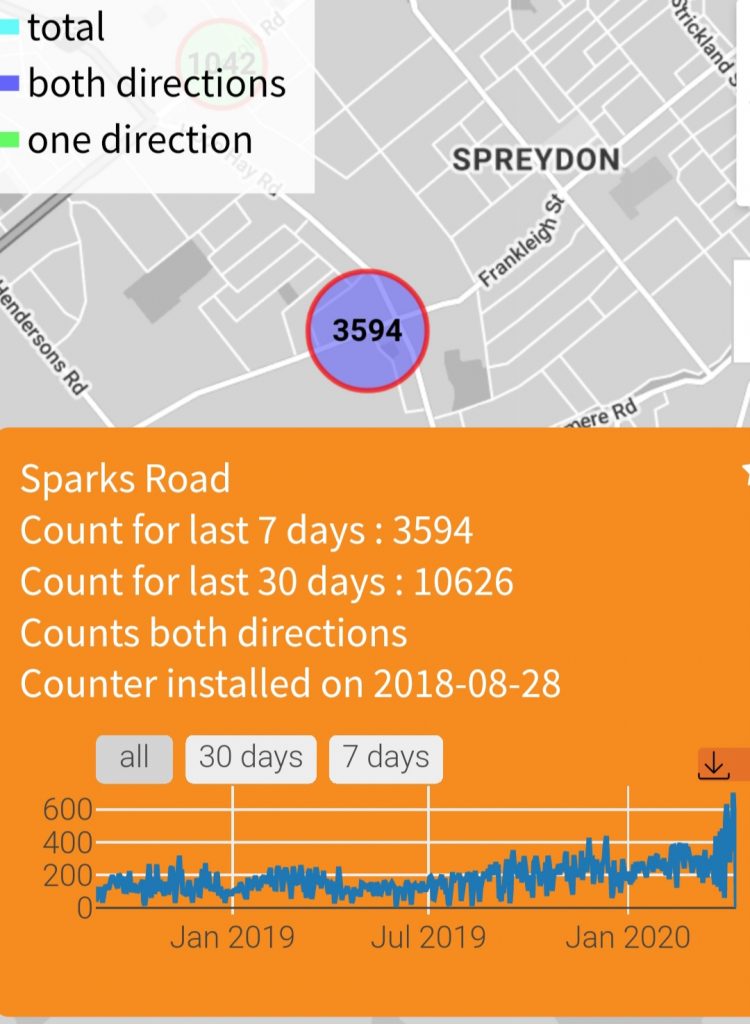 Of course, this makes absolute sense. It is logical that riding a bike should be a permitted exercise activity during lockdown. What will be of interest is the extent to which the changing trend will revert back to pre-lockdown numbers once the country loosens the restrictions in the coming weeks.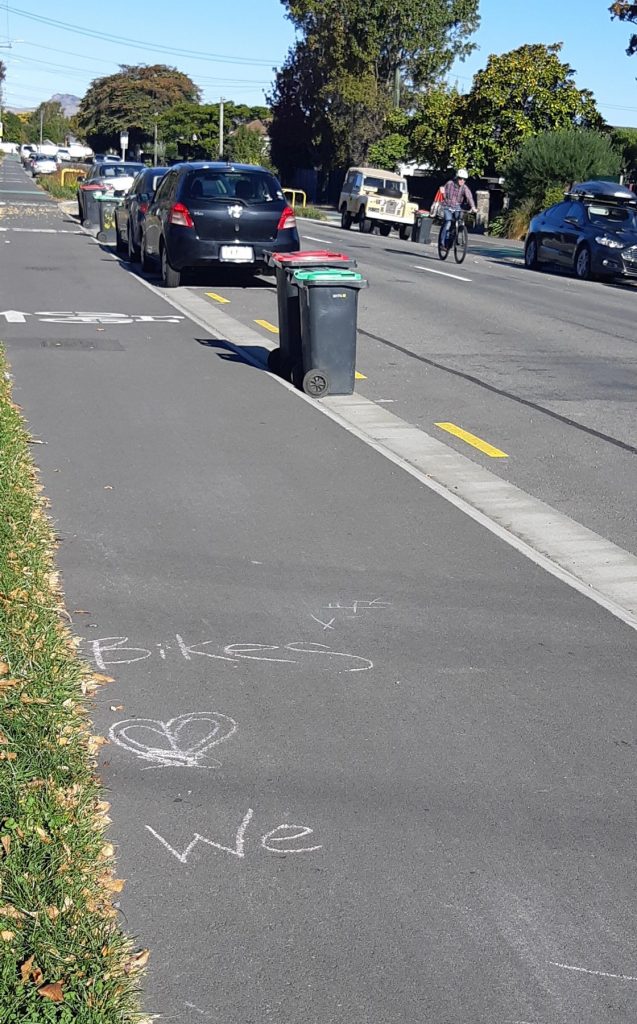 There have been calls for a different approach to how we live, move and relax in a new COVID-19 world. Have we developed sufficient taste for the current cleaner, quieter, safer and more sustainable living environment sufficiently to demand that changes be made which will further the momentum for more liveable living space? Let's hope so, and may the continued roll-out of our cycleway network lead that demand. Without the work done in the previous 5 years to develop the current infrastructure, this lockdown would be nowhere near as palatable for a lot of people.
The recent government announcement that funding is available for temporary projects to enable better and safer pedestrian and cycle mobility by minor reallocation of some roading space will enhance further the active travel experience in the coming months.
Have you been out biking with your bubble during lockdown? How are you finding it?