Another year is drawing to a close, but there's just enough time to take on a few more cycling events before we catch our breath. In fact, things are starting right from the first day of December… Remember to keep an eye on our Activities and Events Calendar for the latest updates on what's happening.
Have you fancied getting into a bit of mountain biking around the Port Hills but been unsure about doing so? Leisa McNaughton from AdventureTimeKiwiStyle has been running free weekly Thursday evening sessions to introduce people to the fun of biking around the hills in a safe way. There's a couple more sessions before Christmas on Thu 1st Dec and Thu 8th Dec, both starting at 6pm until 9pm, starting at the Sign of the Kiwi (Dyers Pass / Summit Rd).

If your bike needs a bit of TLC instead, then you might want to head over to Parklands Library (Queenspark Dr) on Thu 1st Dec from 7.00-8.30pm, where Graham Taylor from The Bike Shop will be running a free Bike Maintenance Evening. Just bring yourself; demonstration bikes provided. Register in advance with your email/phone number at any library or phone 941 7923.

Learn how to fix the bits on your bike (c/ Chch Libraries)

If social biking is more your thing, then bring on the next Bikes, Beer and Banter! This time will be a little bit different; rather than just congregating at one watering hole, Radler Tours will be leading punters on a tour of a number of fine craft breweries around town. Bring your favourite bike, your best line of conversation, and some spending money! Meet up on Sat 3rd Dec from 1pm at Ara Institute (cnr St Asaph/Madras Sts).

This year's Santa Parade is being held this Sunday 4th Dec from 2-3pm. And once again, there will be a colourful cycling team in the parade – and you can be a part of it! Frocks on Bikes, ICEcycles, Biking Vikings, and many other local cycling groups will be taking part to showcase the fun of biking and the variety of bikes to be had. Dress yourself and your bike up and join the pre-ride briefing at 1.30pm (Wharenui Rd); there will also be a picnic afterwards. Or just come along and enjoy watching the Parade!

The jousting knights are always a crowd favourite at the Parade

Two Major Cycleway consultations are due to close in mid-December; the Heathcote Expressway and Rapanui/Shag-Rock Stage 2/3 (more details about them here soon). If you want to know more about these projects, then why not join Spokes Canterbury on a ride taking in both routes at the same time! Starting at C1 Espresso (Tuam/High St) at 10am on Sun 11th Dec, the ride will head out towards Heathcote Valley via Phillipstown and Woolston before returning from Ferrymead back through Linwood to the city for some lunch and discussion.

RAD Bikes continue to roll out their twice-weekly bike building/repair workshops every Sunday afternoon and Wednesday evening (The Commons, Kilmore/Durham Sts) – just look at this great work recently done to create some Xmas bike gifts for needy children. On Wed 14th Dec from 6-7pm, the last Wheel Womyn Wednesday workshop of the year takes place, where the RAD Bikes women provide helpful bike advice to whoever needs it. This month it's all about checking out those squeaky, pesky things on your bike causing you "trouble" – there might also be some Xmas bubbles…

Always plenty going on at the RAD Bikes shed (c/ Isaac Spedding)

Did you miss out on the Chch screenings of "Le Ride" a couple of months back? Fear not, because the cycling movie phenomenon is back for an encore season! This wonderful documentary from "The Amazing Race" resident Kiwi Phil Keoghan retraces the steps of NZer Harry Watson who took on the gruelling Tour de France in 1928 – you think it looks tough now? Le Ride will be screen at Deluxe Cinemas in The Tannery (Garlands Rd), with screenings from Fri 16th Dec through to Thu 29th; adult tickets $17 (other discounts available).

Finally, the excitement is building for the opening of the new Christchurch Adventure Park in the Port Hills. This exciting development will feature mountain-bike tracks of various abilities, a chairlift to help you up the hill, ziplines, a luge ride, walking tracks, and retail support services. The planned official "soft opening" date is Dec 16th, but things will be staggered over the first few days to spread out the likely demand. Earlybird chairlift passes have already sold out; regular pass & package info should be out any day now – keep an eye on their website. There's even currently a charity auction for the very chairlift ride…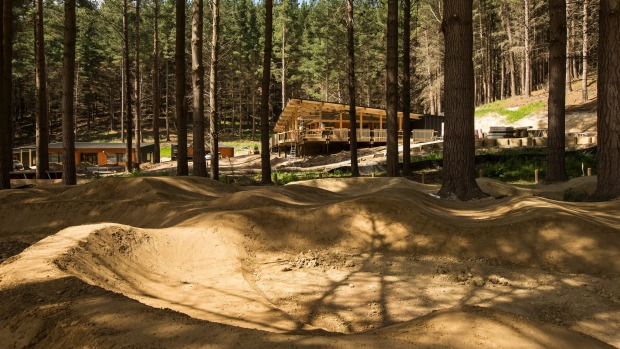 Don't forget to find some time to do some Christmas shopping too! Here's a few ideas here; what else do you recommend?