So it's been a little while now since the City Council signed off on the $69 million plan for major cycleways, and you might be wondering what has happened to it. Actually quite a lot in the background, but it is only now that the first bits of information are coming out publicly about the next steps.
Spending nearly $70 million on a comprehensive cycleway network around the city is not something that you want to do once-over-lightly, so it is no surprise that a lot of effort is going into (hopefully) getting the finished product pretty good. This takes a fair bit of coordination of the various different parts of Council (design teams, capital works, marketing & promotion, etc; not to mention the elected members) as well as linking with external stakeholders like CERA, NZTA, Spokes, and so on.
The first bits of information about the programme are now being promoted via the Future Christchurch website. There you can find some background details about the Council's plans, including a tentative map of the 13 indicative major routes. The route details are still being finalised over time, so don't get too hung up on the precise locations shown; some are likely to change in places.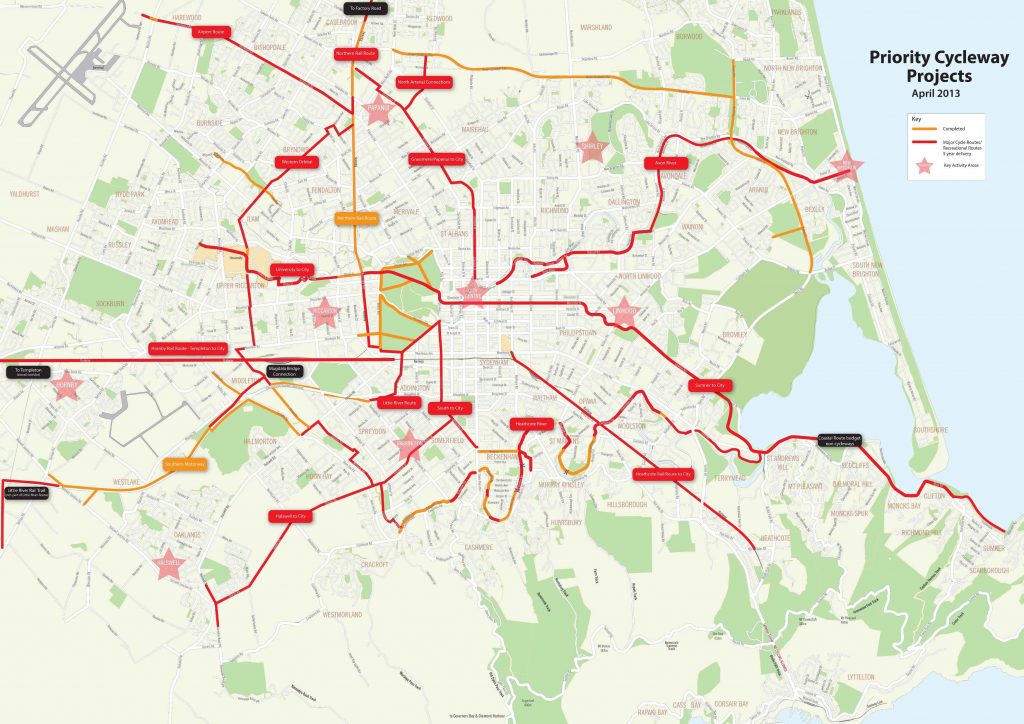 The City Council are also running a competition to name the 13 cycleways. Currently the routes have some fairly generic working titles, but here's your chance to give them a bit of a truly local flavour. Is there some heritage along the routes that should be reflected? Perhaps some famous local Cantabrians we should honour? You've got until 12th January to come up with some ideas and be in to win a new bike prize package!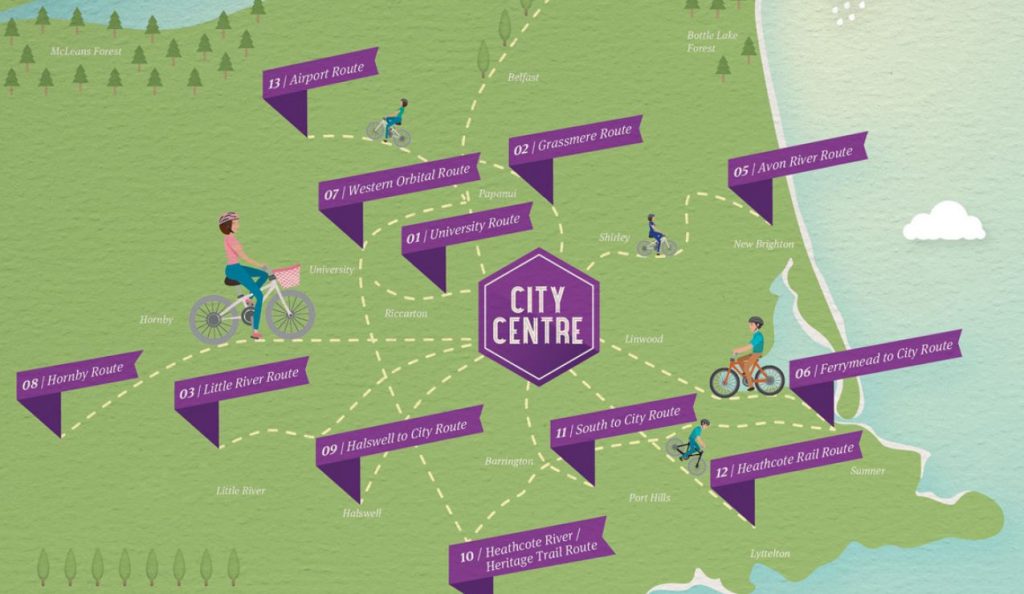 As well as the major cycleway routes, background planning is also underway to roll out various more minor initiatives as part of the Targeted Cycleway Improvements (aka "Quick Wins") programme. This will look at simple enhancements to the citywide cycling network, such as more signage, separator posts, and intersection improvements. More on that in later posts (and opportunities for you to put in your suggestions…).
So what's next? Well the new Councillors will be briefed on the planned programme and design principles in the coming months for their sign-off. And within the next year, you can expect to see parts of the first 3-4 cycleway routes starting to appear on the ground. There will of course be opportunities for public consultation when the detailed plans roll out for each cycleway section. And further promotion efforts will continue to "sell" the benefits of this cycleway network to the general public and then help to explain how to use it when it starts to get into place.
Key Elements of Chch Cycleways for "All Ages and Abilities":
| | |
| --- | --- |
| Separated Bikeways… | Off-road Pathways… |
If you attend the A&P Show this week (here's how you can get there by bike!), you can find out more about the cycleways programme and have a chat with Council staff in the Future Christchurch Pavilion. And Newstalk ZB will also be running a radio campaign soon, telling you more about the cycleways too.
I've been privileged to be involved in the planning work so far for the major cycleways programme, and I'm looking forward to what's still to come. Stay tuned for more details as they come to hand…